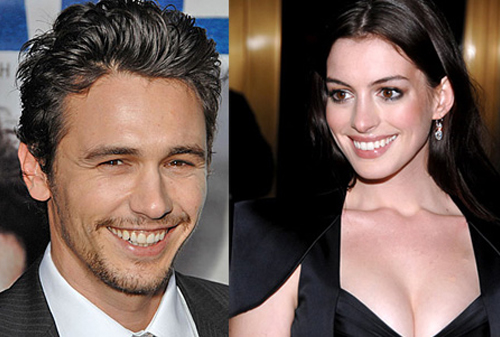 It's official: the Academy Awards gave up.
In an effort to boost weak ratings by reaching out to our generation's MTV watchers, a.k.a, future of America, Anne Hathaway and James Franco will host the 2011 Academy Awards.
Can I get a "meh" from everyone?
Hathaway, if you recall, looks like Bambi and is the star of the Princess Diaries series. She'll sing and dance and twirl around in a sparkling tutu dress—and that would be great if Generation Britney Spears can name the cast of Singing in the Rain.
But they only follow TMZ.
And then there's Franco—who was great in Freaks and Geeks but seems kinda douchey in real life. However, he is pret-ty cute and starred in Spiderman and Milk which proves that he has acting range.
If only young America cared about acting.
Hey Oscars, want to get your ratings up? Here's an idea—pick interesting people. And by interesting, I mean crazy.

How about phoning Kanye West or Courtney Love or David Hasselhoff? We can all take bets on when Kanye plans to go ape shit on the camera men, or when Courtney passes out on stage or what David Hasselhoff is actually saying when reading the teleprompter.
Because award ceremonies are BOR-ING.
So Oscars, take a moment to open up your Us Weekly and pick a B celebrity so I can finally see something interesting at the Oscars other than Joan River's new face.
Image Via Joblo
Tags:
Academy Awards
,
Ann Hathaway
,
James Franco