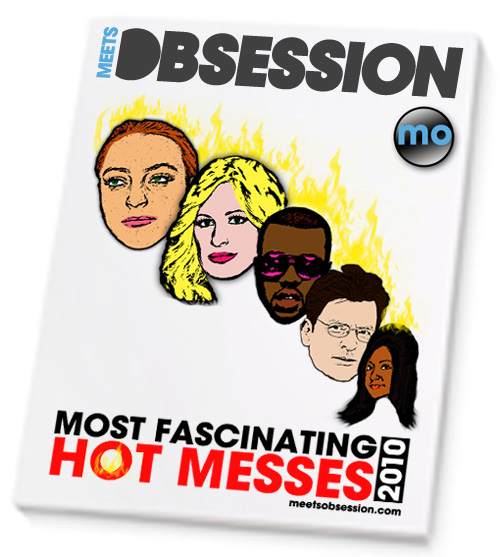 2010 is almost a wrap and the time approaches for our annual countdown highlighting some of the year's most tragic hot messes in entertainment, sports, politics and pop culture.
This year, MO passed on the obvious hot-messes like Courtney Love, who was probably born a hot mess, Pete Doherty who passed hot-mess status 20 jail visits ago, and anyone who has ever competed on a VH1 reality show. That includes you, Tila Tequila and Janice Dickinson.
With that being said, we searched high and low to bring you, who we think are, the 10 Most Fascinating Hot Messes of 2010.
If you don't agree, leave a comment, and let us know who YOU think should have been on our list.
And now, we're proud to present to you, our reader, The 10 Most Fascinating Hot Messes of 2010: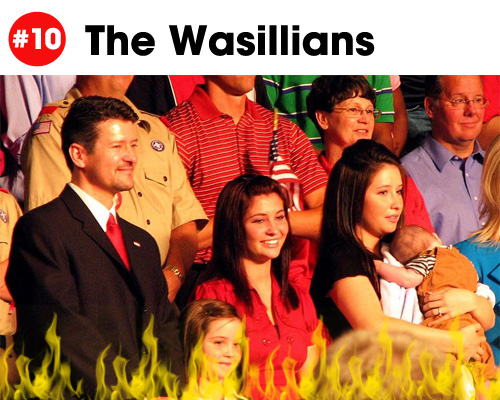 Although it wasn't an election year, the crew from Alaska made our list with a bang!
Sarah Palin left her spot as governor to hock her book around the US.  She's also sold out to TLC, which needs to rename itself as it can no longer be classified as The Learning Channel unless learning to make millions off of your 15 minutes of fame counts.
Did anyone catch the latest episode where Sarah goes camping with her clan and Kate +8?  Enough!
Good for you, Sarah, you deserve every cent of your $12 million dollars.  Don't call her a fame whore, as she is happy to share the spotlight with her daughter Bristol.
Bristol deserves kudos for glamorizing being a single, teenaged parent.  She has appeared in the pages of "high class" magazines like Harper's Bazaar wearing a gown that cost more than most peoples' mortgages.  She describes her life as a single working mom.   Hmm, not every single, working, teenage mom has to rough it on Dancing with the Stars for a paycheck.  She's learning the spin cycle, too!
Bristol and her on-again-off-again baby daddy Levi were able to capitalize on their relationship yet again when they reconciled for a brief period to cover the pages of a glossy mag.  But, now she is single, slamming gays in her tongue and cheek, sweet way.
Her recent shout-out to former Stars cast mate Margaret Cho wasn't too subtle.  In her open letter she wrote, "but I say, if you understood that commonsense conservative values supports the right of individuals like you, like all of us, to live our lives with less government interference and more independence, you would embrace us faster than KD Lang at an Indigo Girls concert."
Hmm… maybe that's the good old fashioned values she's learning at home.  Little Willow Palin, her younger sister has made headlines for her use of the gay bashing f-word.  Big sister, Bristol, apologized for sweet 16 year old Willow's dropping the bomb.
Whatever happens in 2011, best of luck to Sarah and her clan.
2011 Predictions: They will sail away on a block of ice and end up in Mother Russia with a camera crew in tow.
– Kayte Katty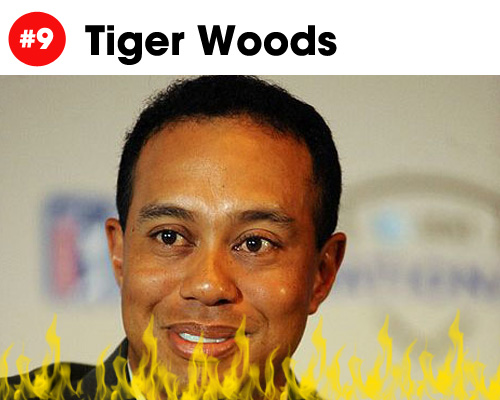 Think you couldn't make the list of hottest messes in 2010 if you were the richest sportsman of the year and pulled in a whopping 90.5 million dollars this year?  Think again.
What do you expect when your best friends are gambling addict Charles Barkley and word famous philanderer Michael Jordan? 2010 was a horrible year for the former #1 golfer in the world.  Big trees fall hard.
America's golden boy should've known better.  As Ben Franklin said, "Three can keep a secret if two are dead".  How many secrets can 15 mistresses keep?  Elin didn't forgive your sins and start over.  Should the American public?
"Why play if you don't think you're going to win?" Woods said in an April conference. "If I don't think I can win, I won't enter the event."  So, you're finished entering?
Woods is now spending more of his free time Twittering and letting the world know that he eats a "peanut & banana sandwich & almonds" during golf rounds.  Great, Tiger!  Do you wash it down with a cold glass of milk?  Are you trying to convince the world you're just like us?  Or, are you trying to convince yourself?
All is not lost.  You have one unwavering fan.  Mama Tiger is sticking by her cub.  Surprised?  She stuck by his father while he was unfaithful.
Maybe Tiger peaked in 2009 and the rest is downhill?
Predictions for 2011:  Tiger gives up golf and moves to Tibet to become a monk.
– Kayte Katty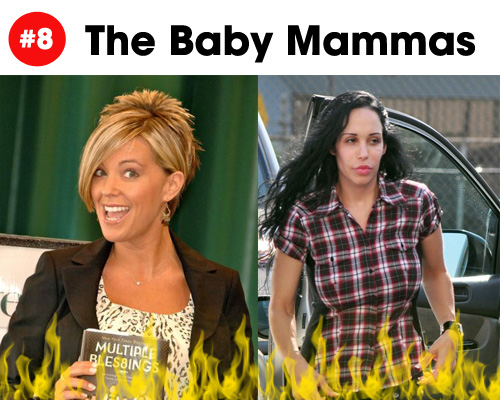 The amount of spawn between baby mamma duo Kate Gosselin and Nadya Suleman puts both multi-babied mothers easily on our list of the Most Fascinating Hot Messes of 2010.
We'll start with the debatable hottest mess of the two, Nadya "Octomom" Suleman, shall we?
Nadya Suleman
Remember in January 2009 when Nadya birthed her octuplets and we were all so happy? What's more beautiful than a woman giving birth, right?
Then we started to slowly learn the truth. We found out that Nadya was unemployed, lived with her mother, single, and had SIX other babies.   She doesn't like being referred to as "Octomom" because she has 14 spawn in total. Okay, how about "crazy mom"?
We knew at that precise moment that there was a strong possibility that she was a bit batshit- a batshit lady with a whole bunch of babies.
Then there was that striking un-natural resemblance to Angeline Jolie.  It was as if she had gone to her plastic surgeon's office with a picture of Jolie and said, "Make me look like this!"
Remember when Fox aired the two-hour special Octo-Mom:The Incredible Unseen Footage and we got to see this?
2010 brought the Nadya and her 14 kids threats of foreclosure, eviction troubles and an offer by Vivid Entertainment to appear in an adult movie for $1,000,000 in which Suleman turned down.
Perhaps Nadya might consider doing the unselfish for once. $1,000,000 can sure feed a lot of mouths.
Kate Gosselin
Kate was first introduced to us in her 2007 Jon & Kate Plus 8 TLC reality show.
2009 and 2010 brought us a single Kate and a newly titled TLC show, Jon & Kate Plus 8.
In 2010, Kate played BFF's with Sarah Palin, had a custody battle with ex-husband Jon, went clubbing in NY, got hair extensions, and competed on Dancing with the Stars.
For a moment, we got to see how it probably felt being Jon Gosselin when Kate emasculated her dance partner, TonyDovolani, with her daily bitchery.
We also got to witness the tragedy of Kate Gosselin's dancing.
In April 2010, TLC announced that Kate would be getting her own show called Twist of Kate.
The series will feature her traveling the country, visiting mothers who have written her letters about their stories.
Predictions for 2011: Nadya Suleman and Kate Gosellin will take a family trip together and get lost in wilderness. Their 22 combined children will start a "Lord of the Flies" society and banish their mothers from their kingdom.
-Jacqy Law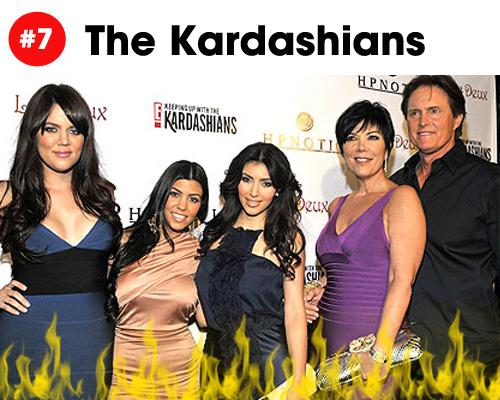 Not everyone loves 'em, but you can't deny that the Kardashian's are one hot-mess-worthy family.
With Kim Kardashian's Facebook page at 3.6 million fans, and Kim Kardashian's Ass' Facebook page at 800,000 fans, it doesn't take a genius to conclude that Americans LOVE their Kardashians.
2010 subjected us to multiple and endless commercials of the Kardashian's hawking their newest product, whether it was Kim's perfume, their pre-paid hidden fees credit cards, QuickTrim, PerfectSkin, Shoe Dazzle, the Kardashian Konfidential book, K-Dash clothing, or the Kardashian Glamour Tan.
Really, what DIDN'T this family sell this year?


Upon first look, the Kardashians seem like your fun, tight-knit, loving family that we all want to be, but on closer inspection, you start to see the threads melting to one pile of hot-ass-mess.

How many families do you know with a mother that makes Ice-T look like less of a pimp and a father (yes, Bruce you made the cut too) that's had so much plastic surgery that he could easily fill all the pages of awfulplasticsurgery.com?
And the best part?
The Kardashian children. Oh, those glorious Kardashian children.
A list of accomplishments, if I may:
Kourtney: Birthed a child, homeless, and girlfriend to an alcoholic unemployed boyfriend.
Khloe: Served 2 hours of hard jail time for her DUI, got kicked off Celebrity Apprentice– not even Dennis "CrayCray" Rodman managed to get kicked off, somehow you did.
-Married an NBA player with three kids after 2 weeks of knowing him.
Kim: Divorced at 23.
-Took the Paris Hilton route to fame by making a Vivid Entertainment adult movie with Brandy's retarded brother Ray J.
-Allegedly likes fillers, so much that she's vaguely starting to resemble Cat Lady Wildenstein Circa 1990.
-Also subscribes to the Tammy Faye Baker's handbook of makeup application.
– Swears she's not had plastic surgery. I'm not a believer.  Does no one notice that she had an entirely DIFFERENT face in 2004?
-Talks in "baby" voice like her ex-friend Paris Hilton.
-In 2010, dated Reggie Bush, Miles Austin, Christian Renaldo, and Halle Berry's baby's daddy Gabriel Aubry.
Kylie 12, Kendall 14: 12 and 14, going on 30.
-Mamma Kardashian spent 2010 pimping out her 12 and 14 year-old babies for sexy bikini shoots that made Miley Cyrus' 2008 controversial Vanity Fair photo shoot look like child's play.
Clearly, this is a family of winners.
Early December 2010 brings news of clothing retailer bebe "assessing" their partnership with the Kardashians.
Bebe says:
The sisters do still have relevance. But at Bebe we need to move with fashion and we want to be first in the fashion world with everybody else and not fall behind. We are definitely assessing the situation.
Perhaps Bebe finally realized that they're doing business with some hot-ass-messes.
Let's hope this family has other talents then hawking shit and marrying athletes. Sooner or later American is going to grow tired and move on to the next hot-mess-of-a-family.
Prediction for 2011: The Kardashians run out of things to sell in the US, move to Sweden, and annoy the shit out of some other country.
-Jacqy Law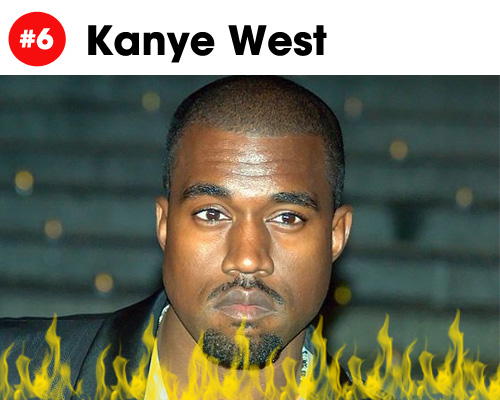 Paging Dr. Drew:  We have your next  celebrity ready for rehab!
It's no surprise to find proud college dropout, mud-slinging Kanye West on our list of Hottest Messes of 2010.
The perennially inarticulate racist labeling West has made more gaffes than a vice president.
After a horrible 2009 in which he berated a teenage Taylor Swift, it didn't seem like 2010 could get much worse for Kanye West.  But, the man who years earlier denounced the Commander-In-Chief as someone who "doesn't care about black people" proved things can always get worse.
Next time, might we suggest he get a literate publicist who can spin a more heart felt apology than his "TAYLOR LOVES RAP MUSIC…I LOVE COUNTRY MUSIC…I'm sorry Taylor."
Maybe this is all a manifestation of psychological pain caused by the death of his beloved mother in 2007 to plastic surgery.  Whatever the explanation for this grown man's stupid behavior, there is no excuse.
He couldn't hold his own in a November interview with Matt Lauer.  He was a mess.  He threw a baby tantrum and walked off the set.
Now, not even iconic Quincy Jones can humble this ego.
QJ distinguishes this poser from someone who has honed a craft:
Did he write for a symphony orchestra? Does he write for a jazz orchestra? Come on, man. He's just a rapper. There's no comparison. I spent 28 years learning my first skill. I don't rap. It's not the same thing. A producer has to have some sort of skills that enable him to be a producer. It's totally different to know what to do with 16 woodwinds you know from piccolos down to bass clarinet. It's a whole different mindset. No comparison. None.
Now the rapper with a gold and diamond grill is trying to spin his image with some photo ops of him wrapping gifts for kids in foster care.  Note to KW:  Stop stroking your ego.  If you cared, we wouldn't see pictures of your good deeds flooding the internet.
Best of luck for 2011. Predictions:  You will come out of the closet and open an orphanage in Sudan.
– Kayte Katty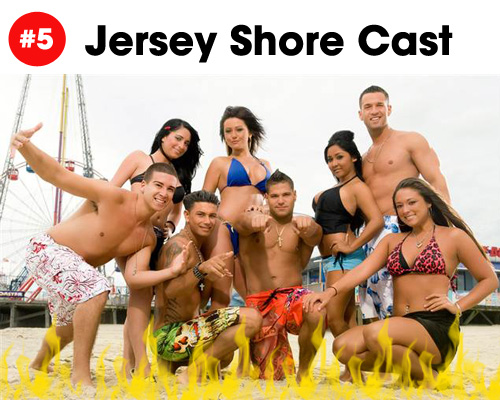 Remember in December of last year, when Jersey Shore debuted and we all collectively rolled our eyes, playfully made fun, and moved on?
How could our hot mess list be a legitimate hot mess list without the likes of JWoww, "The Situation",  Snooki, DJ Pauly D, Ronnie, Sammi, Vinny, and Angelina aka  the hot-ass-messes of Jersey Shore.
2010 brought us Snooki's arrest for public drunkenness, Ronnie's arrest for unpaid parking tickets,  America's  overuse of the phrase "GLT" (Gym-Laundry-Tan), and the unfortunate horror of Jersey Shore Season 2.
This year, the kids of Jersey Shore got to terrorize the residents of Miami Beach with their latest reality show installment. MTV gave them a fancy house, a fancy job at an ice cream parlor (can I get the STD flavor please?) and some cash to burn.


Every Thursday evening, America got to watch DJ Pauly and "The Situation" look for AND score with bimbos that were "DTF".

We saw the freckled-faced JWoww dress her fake boobies every night and chain smoke her way through an entire season, and we also saw our favorite lovable orange dwarf, Snooki, get drunk and make out with a multitude of men.
Remember the episode when "The Situation" picked up a girl at a nightclub and then they had sex after 30 minutes of knowing each other? Nearly 2 minutes after the "std transmission", the situation called said bimbo a cab and told her to get her ass up and go.
Yes, boys and girls, Jersey Shore is full of all kinds of class.
Surprisingly, MTV revealed that they hand out Valtrex regularly to all the cast members.
Jersey Shore creator, SallyAnn Salsano on the subject of Valtrex:
We hand it out like M&Ms.

'Hey kids, it's time for Valtrex!'

It's like a herpes nest. They're all in there mixing it up.
Stocktip: You might want to start investing in GlaxoSmithKline as long as episodes of Jersey Shore are being made.
After Jersey Shore's season two, cast member Angelina reportedly quit the show to start her music career and make this train wreck of a song:
In 2010, the Jersey Shore cast invaded our televisions on practically every TV network.  They attended almost every award show, made appearances at fashionable magazines like Elle, competed on Dancing WithThe Stars, and even made a guest appearance on last week's VH1 Divas Salute The Troops.
When did we all start taking the Jersey Shore cast so seriously?
Predictions for 2011: Snooki gets a daytime talk show. "The Situation" comes out with a brand of bedazzled tattooed condoms called "The Situation".  JWoww stars in her first porno called Jersey Whore.
-Jacqy Law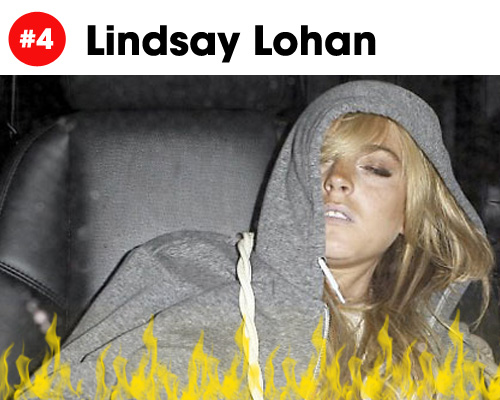 The House of Mouse has served up more hot messes than a short order cook at Denny's.  In and out of court, in and out of rehab, in and out of cars without underwear, this well known fire-crotch can someday write her memoirs as Lohan: Fully Loaded.
Lindsay Lohan's turbulent young life has psychologists spinning looking for answers to which has more influence in a person's life; nature or nurture.  Spawned from a distant father whose unsteady background led him in and out of jail and a camera-whore mother who would sell each of her children for her own 15 minutes of fame, poor Lindsay never stood a chance.
Never learning real coping mechanisms, Lindsay played out her own version of Mean Girls in the tabloids with her catfights between Paris Hilton and Hillary Duff.  Searching for the missing love that her self-absorbed parents never gave, Lindsay seemingly sought to fill that void with drama and drugs.  Her multiple DUI arrests and her cocaine possession charges, her on and off again love affair/stalking affair with ex-girlfriend Samantha Ronson, all point to a life of desperate self-loathing and despair.
While her movie career took a break for her jail stints and rehabs visit, Lindsay managed to make court ordered ankle bracelets look fashionably sheik this year. Lohan-ites everywhere siphoned booze from their parents, donned fake scrams and left their panties at home this prom season.  While Lindsay did remember to keep her alcohol monitor and panties intact this fall, she failed to remember her court date and was a no-show, choosing to party at Cannes instead.
Her excuse that someone stole her passport didn't work any better than when she said the dog ate her homework.  The common sense judge sentenced her to more jail time.  Lohan violated her probation and was given additional jail and additional rehab.
Lindsay's next trial is set for February of 2011 and we can't wait to see the next train wreck in this no-longer a teenager Drama Queen's life.
What she need's is to be adopted into a family that loves her for who she is and not what reality show they can cash in on by using her name.  The crazy tree from which Lindsay fell was pretty short.
I can't help wonder if a hug from mom (with no cameras around—not a time for a photo op) and bowl of homemade chicken soup wouldn't fix what ails her.
2011 Predictions: Lindsay becomes fast friends with Stephen Baldwin and becomes a born again Christian.  They make a music album called Job and Ging.
-Chloe Love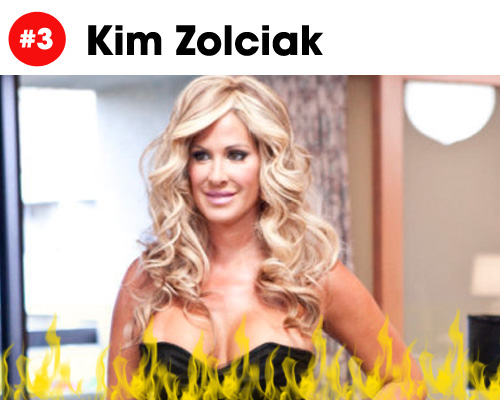 Every week you can catch Kim Zolciak on Bravo's hit reality TV show The Real Housewives of Atlanta.
On the weekly train-wreck of a show, you can usually find Kim wearing her crooked, overly blonde wig, drinking wine in her parked car, chain smoking cigarettes, bitching about her married rich boyfriend "Big Poppa", and looking in the mirror professing how "hot" she apparently is.
2010, brought us her singing hits like Tardy for the Party and Google Me, her wig collection, the gay-for-pay  stint with lesbian Tracy Young, and recently, her love child (yes, Kim is pregnant with her THIRD child and allegedly THIRD daddy) with NFL's Kroy Biermann.
Did Troy not get the memo that Kim supports her duck lip habit with alimony payments of ex's in excess of $30,000 in monthly child support?
Prick the condom in the head, anyone? Maybe, says costar Nene Leakes according to Radar online.
A bit of advice to Troy: If you marry her, get an iron-clad-solid-as-a-fucking-rock pre-nuptial.
Rumor has it that Kim is also campaigning for her own TV show in the likes of Betheny Frankel.
I'm not certain that America is ready to go full train wreck yet.
Predictions for 2011: Kim will get so much filler in her lips that they will finally explode.  She'll create some miracle healing crème and do late night infomercials.
-Jacqy Law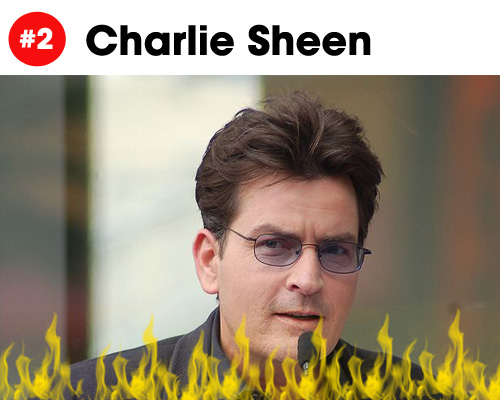 If life were like the characters we played on family TV shows, then Charlie Sheen wouldn't be nearly as entertaining.
And TMZ is grateful for it.
So here's to being number two on our countdown, Charlie. Now you know how Emilio feels.
Oh Charlie, from the time that you were born, your life—suffice to say—was a doosey. Who knew that your cameo as the trouble teenager at the police station in the movie Ferris Bueller's Day Off would be ironically prescient of things to come? With the merry-go-round of drugs, rehab and Heidi Fleiss escorts, it was only a matter of time that you would go ape shit.
Again.
…and again…and again.
Which is why you were found drugged up, passed out and naked in a hotel room after going bat shit on a porn star who you claimed stole your watch.
So you did what any reasonable person would do in that situation—you locked her up in the closet.
The bitch had to learn. We understand.
And how about that time when you allowed your Mercedes-Benz to fall into a ditch at the bottom of the hill?
Twice.
Boy, you'd think with 30 odd years of driving experience, you'd have a handle on getting them keys out. Haven't you learned anything from those Santa Monica mudslides?


Hills are NOT your friend and you should be on flat surfaces at ALL TIMES or else you'll find yourself tumbling down a mountain into a ravine of paparazzi.

And then where would you be?

A million dollars richer! Seems to be with every crazy ass thing you do, your ratings and paycheck goes up.

So stop trying to be a family man. It's not a good lifestyle choice for you.
You've gotten married twice, and look what it's gotten you—a litany of domestic assault charges and you pulling your knife out when the going gets "tough." You've got FIVE kids from THREE women. All you need is a wife beater, a do-rag and some gold chains and you'd be a rapper.
Cheer up, Chuck. If the porn stars and constant flare ups don't keep you warm at night, well, you can burn those Benjamins in the fireplace where you threw the last steering wheel from your Benz.
Prediction for 2011: You reprise your roll of Lt. Sean "Topper" Harley in the porn version of Hot Shot, titled Hot Shot: Part Menage-a-trois, and like Robert Downey Jr. revamp your movie career.
-Mei Tan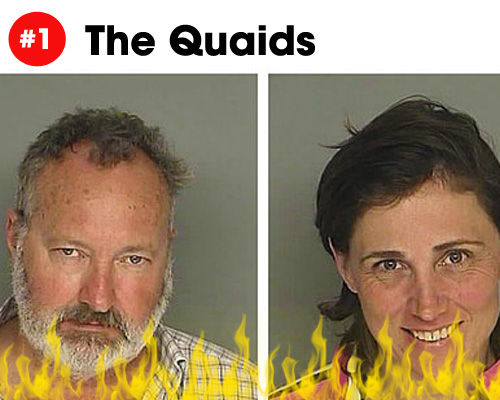 Sometimes life can take a mean turn of events. One decade, you're the star of a hit movie National Lampoon's Vacation and the next decade you're being hunted by "star whackers" for your fame and fortune. Lucky for you, you've got a doting wife who's just as bat shit crazy as you are!
Congratulations, Randy and Evi Quaid, you top our list of hot messes for 2010! Hopefully, this win won't jeopardize your safety in Canada when the star whackers kill you.
You folks might remember famous Randy from recent movies like Brokeback Mountain where he played that other guy that didn't sleep with Jake Gyllenhaal or Heath Ledger, or Treasure Island Kids: The Battle of Treasure Island where he kept us at the edge of our seats as evil Captain Flint. Or how about his Emmy worthy performance in the 1999 TV film, The Magical Legend of the Leprechauns, where he played Jack Woods, a businessman with the heart of gold who unified leprechauns and fairies.
Then there's Evi—the loyal wife, who bless her heart, is standing by her man even if he's hard to understand.
Because she's popping rainbow pills and talking to leprechauns and fairies, too.
Together they are just the cutest couple. They walk alike, break into homes they don't own alike, get arrested for ditching a $10,000 hotel bill alike…what a crazy pair.
Oh you Quaids! Your incredible star power outshines the likes of Britney Spears, Lindsay Lohan and David Carradine. Of course you need to live in your pee-stained Prius and make calls from pay phones because the star whackers are out to get you.
You better not GPS that journey you're planning to the motherland of Siberia because they're tracking you.  God help you.
God help us all.
Predictions for 2011: They meet the star whackers and inadvertently discover that the whackers are aliens.
-Mei Tan