Pete Doherty, yes THAT Pete Doherty of Baby Shambles and rocker hot-mess ex-boyfriend of supermodel Kate Moss, has launched Albion Trinketry, a unisex jewelry line.
Like me, you're probably expecting his jewelry collection to be made out of used crack pipes, empty cocaine vials, and dirty hair scraps.
My first peek of Doherty's collection, Albion Trinketry, looks promising. You'll find among his collection, bold and gold deco inspired pieces in the form of over-sized starburst cocktail rings and chained cross necklaces.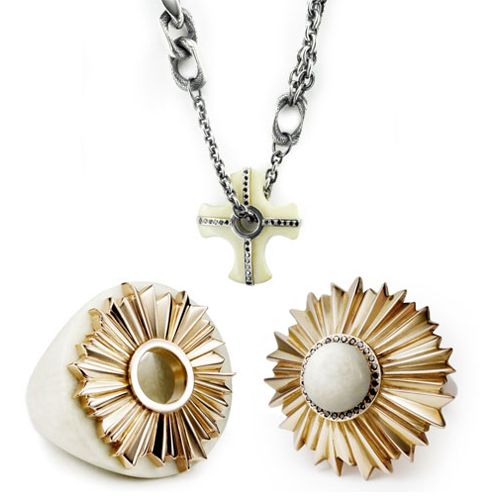 Doherty created the 15-piece range of unisex jewelry with Hannah Martin, the Cartier-trained jeweler who designs her own namesake collection and has collaborated in the past with Hannah Marshall and Carolyn Massey.
Frankly, I'm not sure how he had time between his 21 visits to jail, but I must say, this collection has surpassed my expectations.
What do you think of Doherty's new collection?
Tags:
Albion Trinketry
,
Baby Shambles
,
Jewelry
,
Pete Doherty