It's no surprise from my prior posts that I love me some shiny.
Which is why Christophe Decarnin of Balmain can do no wrong. Which is why his fall vision of brocades, metallics, and purple sugar plums dance in my head. Which is why this dress is BAD-ASS.
This is the ultimate seal-the-deal-dress. (Um, guys, wipe the drool off your faces, its disgusting.) Black and gold. Sharp shoulders. And paired with my favorite staple for the fall—the black lace up boot.
Decarnin made it for today's Marie-Antoinette rebel—price tag and all. (Honestly, it might as well be a phone number.)
So for the rest of us dreamers, who want to go baroque, but don't want to be…well, broke, I've listed some very hot and affordable options below: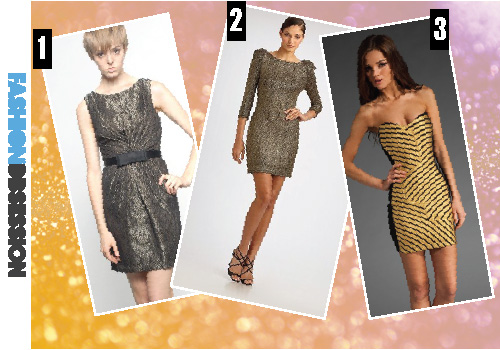 1. Belted Cocktail Dress, Max & Cleo, $158
2. ABS Long Sleeve Boatneck Dress, ABS, $230
3. Strapless Dress Black/Gold, Maurie & Eve, $191
Image Via Style.com

---

Mei Tan is currently obsessed with lace-up booties, anything by Marc Jacobs, sleeping in until noon, and "winning."
All author posts