Last Friday, your Meets Obsession (MO) guru attended the sold out Brightest Young Things (BYT) All Access Holiday Party at the Newseum, a Disneyland for news junkies that features some impressive exhibits on 9/11, Hurricane Katrina and fun, fun games!
The plan: to party like it's 1999, snap some happy people pictures and review the party, in that order.
The result: partying achieved, but the snapping of pictures…um, did I mention partying achieved?
The why: your MO guru got side-tracked with having fun, and well, forgot her camera but had her trusty blackberry.
I arrived at the Newseum at 8:30, bypassed the huge line (suckers) and got in immediately. Now from my last event review, you loyal readers must be thinking, wow, MO must've scored some major street cred.
Uh, sure, if by "street cred" you mean "lucked out because they happened to be calling my surname at the time on entry," then yes, MO reader, you are correct.
BYT threw a great party, and I, along with 2,000 of my closest Washingtonian friends danced the night away to DJ AutoRock, decked out in free glow sticks.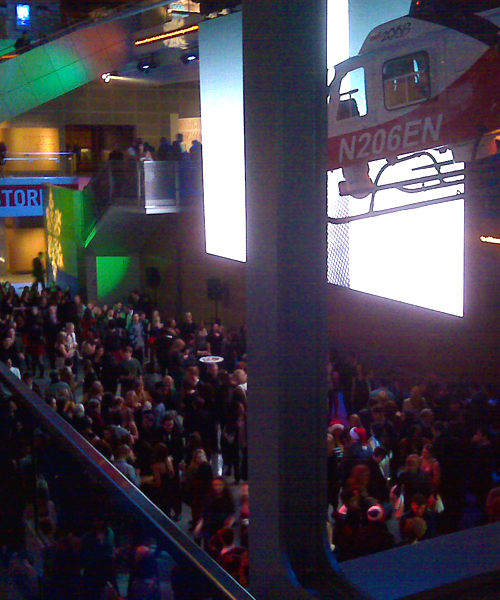 Those on the top floor received personal headsets that they could wear to have their own "silent disco."
Honestly, that was a little weird to see five people in a group dancing to music no one else could hear.
Props to BYT for also being savvy enough to put minibars inside the ultra-chic glass elevators that took crowds up and down on a merriment joy-ride!
Luckily, no one got motion sickness.
My one complaint of the party: whattup with the crazy currency/bartering system they had to get booze and food?
Obviously, good ole fashion American money was not good enough. For the cash bar upstairs, anyone who fancied drinking had to get into one long-ass line to exchange real money that America uses, for funny money that no one uses, and then get into another long-ass line to use said funny money to score booze.
What a buzz kill, BYT. I knew I should have snuck in that bottle of Grey Goose when I had the chance.
One would think that the funny money would be good everywhere in the Newseum.
Well, MO reader, you would be wrong.
For those, like moi, who wanted food AND booze in the cafeteria downstairs, your funny money was no good, which made your MO guru very sad and frustrated and crazy.
Apparently, you could use real money for food, but you had to get into ANOTHER long-ass line for tickets to get booze. Which meant, your MO guru who wanted to get food and drink gave the cashier $20, said "do something with it" and got back a dollar in change and a shit ton of tickets.
Where, oh where, did my education fail me?
They could've given me back an orange and I would've thought "yea…seems like a fair trade," and walked up to the bar, pointed to my orange like a mute and signed to the bartender, "Me give you shiny fruit for moonshine."
Finally, for our MO fashion readers, I did not forget you…errr, at least not completely…here are two pictures of some adorable ladies in their j'adorable outfits.
I've always been a fan of red, white and black (right).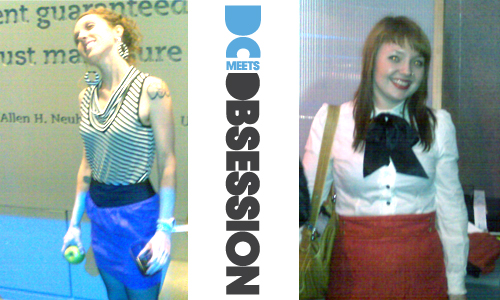 Stripe and purple = cool combination (left).
Congratulations, BYT! I'll definitely make it to your next bash.
---

Mei Tan is currently obsessed with lace-up booties, anything by Marc Jacobs, sleeping in until noon, and "winning."
All author posts