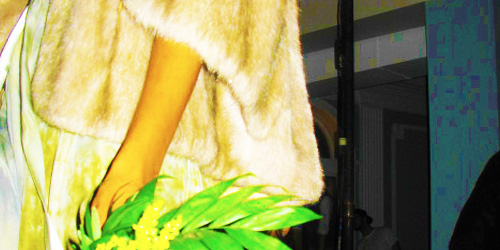 Thursday night, Jacqy and I attended the Fashion: District show in Adams Morgan. The show was housed at STROGA, an adorable yoga studio that looks more like an old victorian hotel.
The plan: review Fashion: District.
The result: epic fail.
The why: greeter girl who likely has never watched an episode of Kell on Earth said no.
So at 8:30, we arrive all gussied up and ready to schmooze with DC's finest fashionistas. By 8:35, we meet greeter girl, flashed our fancy business cards and asked her if it was cool to sit with the press and review the show.
Did you pay? Greeter girl asked–an odd response considering it had nothing to do with our question. Yes, we said. (Unfortunately.)

Greeter girl scans the pages for our names.  As we suspected, greeter girl had "a list."

Damn fashion shows for being like fucking night clubs.
Are you on the press list? She asks. No. But did you see our awesome business cards?
Well then, you can't sit with the press. Whatcha talking about, Willis? There was nothing on your site to direct press. We just want to review the show. And I don't know, um, write about your event and um, give you and the fashion designers some press, so um, they can promote themselves and make, um, more fashionable shit.
We have a private list. If you're not on it, you can't sit with the press.
PERIOD. Epic fail.
Okay. So no biggie. We're thinking the press gallery must be pretty hot…like New York Times, Womens Wear Daily, Vogue…your standard affair. After all, we're just an online magazine (granted, with some amazing content, but whatever). So there's no room for us.
No room.
No media kit. No lookbooks. Nada.
We b-line it to the press section and see this: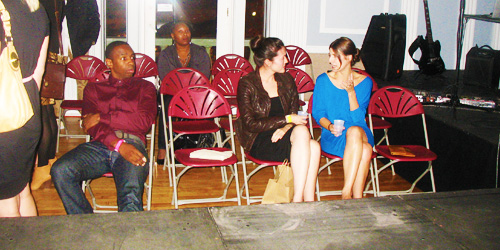 Okay, maybe the press staff are all playing musical chairs and like TWENTY people got out. Maybe the press isn't there yet. You know how those lazy mofos can be. Certainly they'll show up when the show starts.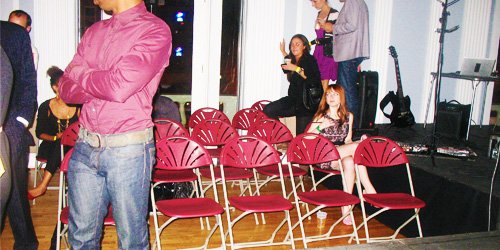 Obviously, knowing that you're not wanted is a real downer. So THANK GOD we bought those $35 tickets which gave us access to the all-you-can-drink bar! Black outs, here we come!
So um, like where's the vodka, the liquor, the hard stuff, man? What brand is this??
Anywaaay, our moms always taught us to make lemonade out of lemons, and we didn't want the night to be a complete bust. Since Jacqy and I are major shoe whores, we spent the evening making folks uncomfortable by whispering and pointing at their shoes. Here's what we found: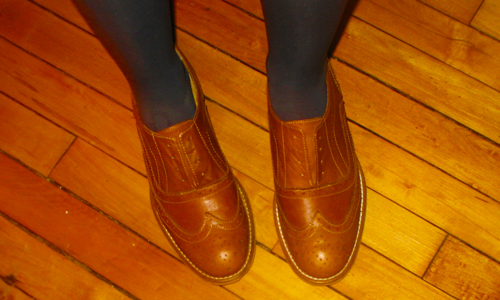 A delightful pair of oxfords by Steve Madden. Preppy. Cute. They say I know four-syllable words.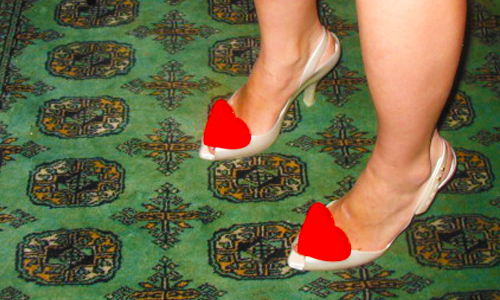 Beautiful slingbacks by gasp Vivienne Westwood. Viv, I heart you!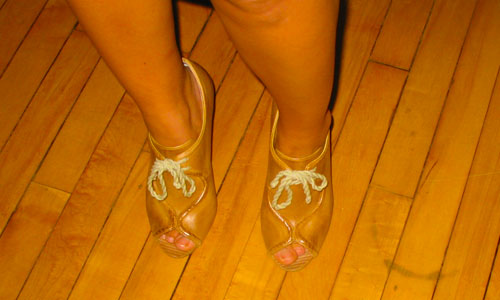 I want these shoes! The chick who wore them took them off to tell me that they're from Max Studio. You're awesome, chick I don't know.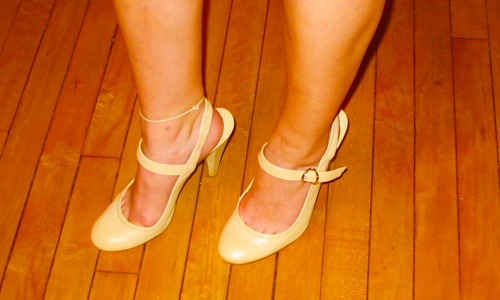 Adorable Mary Janes by Nine West.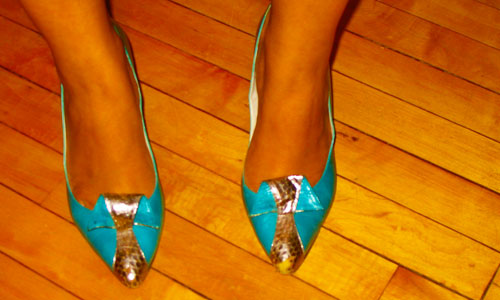 These turquoise beauties are from the 80's! No idea who made them. Sorry girls.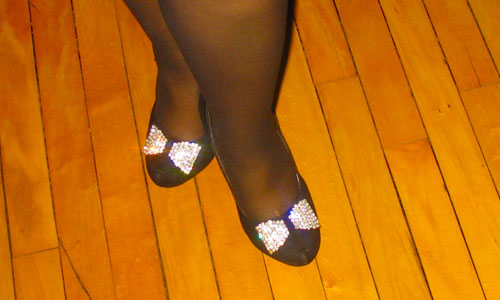 If these were red, they'd be those ruby red slippers from the Wizard of Oz. Maybe if we had a pair, we could have clicked them twice and asked the nice witch to get us the fuck home.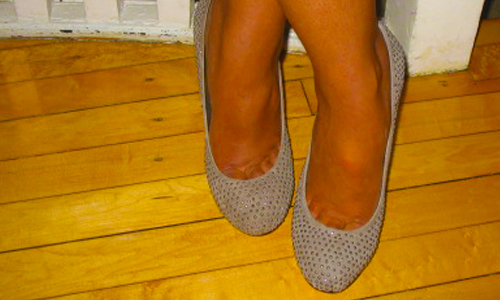 Cool studs. By Dolce Vita.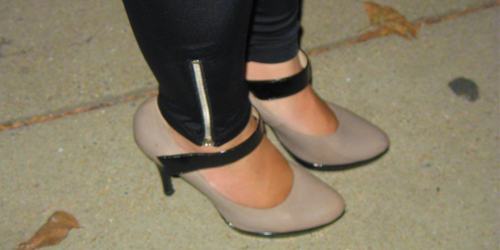 And these are mine. Michael Kors. I cut the bitch that tried to take them from me at DSW.
So that's it folks. Our cover of Fashion: District Fall/Winter 2010. Come back next year when we show you photos of people's hands!
Tags:
Fashion Shows
,
ReadySetDC
,
Shoes
,
Washington DC