In the strangest partnership since Michael Jackson and Lisa Marie Presley, UGG, the maker of Sheepskin and slippers, has partnered with Jimmy Choo to create a line of studded and leopard styled super UGG boots… SUPER UGGLY, that is.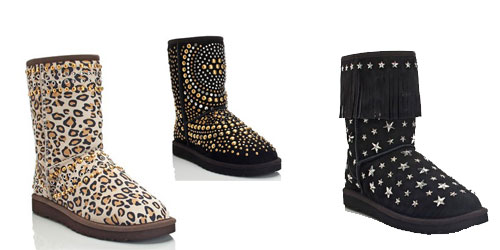 The UGG boots come in a variety of flavors; leopard, studded, and tasseled, and they can retail anywhere from  $495 – $795 . Really? $795 for slippers? Call me crazy, but I'm a believer that slippers should only be worn at home and not cost over $100.
I love Jimmy Choo and I love the shoes that Jimmy Choo continues to create, but these are cringe-worthy. I am certain to have nightmares of a million Pamela Andersons roaming around LA  in these. Make em' go away!