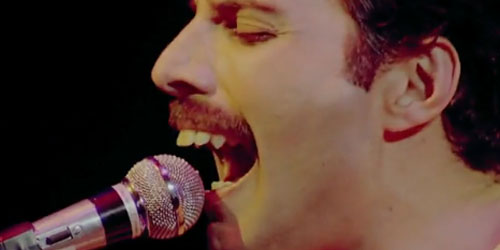 During my workout (a.k.a. walk to the grocery store) today, I had my ipod blasting to sweetest sounds of Night Ranger, the sounds of the Sister Christian kind.
There are no words to describe the feeling this song gives me. I want to run down the street, kick trash cans over, play my imaginary drums, and Whip My Hair like little Ms. Willow Smith, all simultaneously.
My shot of musical adrenaline got me thinking…what ever happened to the great American Power Ballad? In a world of auto tune and synthetic pop, are power ballads completely extinct?
For Flashback Fridays, I've composed, what I think, are the top 10 greatest power ballads of all time:
#1 Queen: Bohemian Rhapsody
#2 Night Ranger: Sister Christian
#3 Guns-n-Roses: Sweet Child o' Mine
#4 Led Zeppelin: Stairway to Heaven
#5 Heart: Alone
#6 Phil Collins: In the Air Tonight
#7 Journey: Open Arms
#8 Pat Benatar: Love is a Battlefield
#9 Areosmith: Janie's Got a Gun
#10 Cutting Crew: Died In Your Arms
Tags:
Music
,
Night Ranger
,
Power Ballads
,
Top 10