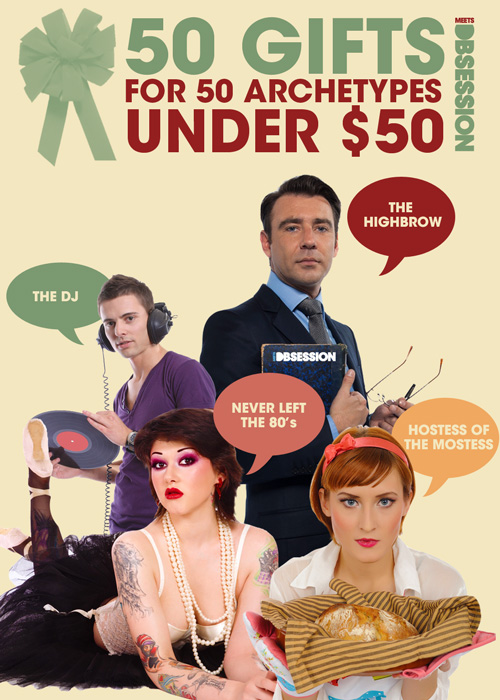 Just starting your holiday shopping? Fret not, my friend. We've put together a fabulous guide to help you navigate your way through the holiday shopping  clutter.
We've got you covered on everyone. The Style Maven. The Artist. The Eternally Single Friend. The GAYMAZING BFF. And 45 more.
We're proud to present to you our very first Holiday Gift Guide: 50 Gifts, For 50 Archetypes, Under $50.
We hope you like the read! And, if you enjoyed reading our guide, please feel free to share and comment.


A GIFT FOR THE ADRENALINE JUNKIE
You often wonder if your adrenaline junkie friend has ventured into craycray territory. Every weekend you can find him performing some death-defying feat.
Mountain climbing. Check.
Skydiving. Check.
Bungee Jumping. Check.
You know it's only a matter of time before a strange freak accident happens, and since a life insurance policy might be a holiday gift faux pas, consider a gift of luck like the Lucky Gold Hamsa String Bracelet.   Your friend can wear this "lucky" bracelet the next time he decides to get their next adrenaline fix. The gold vermeil hamsa has lucky charms inside including a clover, evil eye, elephant and horseshoe. Charm is attached to a double red string with a clasp closure.
-Jacqy Law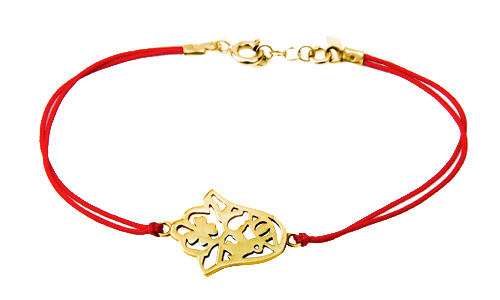 Lucky Gold Hamsa String Bracelet | $38



A GIFT FOR THE ALWAYS BROKE FRIEND
"Hey Man! Can I borrow a few dollars?" Tired of hearing that from a friend who really should be more of an acquaintance? Does your face hurt from having to smile while your friend gives you some sob story about how he miscalculated some expenses and are now in arrears?
Clearly, your friend needs a wrist watch calculator. No longer will they have to rely on their janky mental calculator for they can now use the cutting edge technology from the 1980's to balance their checkbook. They will also pick up a few style points as the watch is retro enough that hipsters will fawn all over it.
-Stanton Lawyer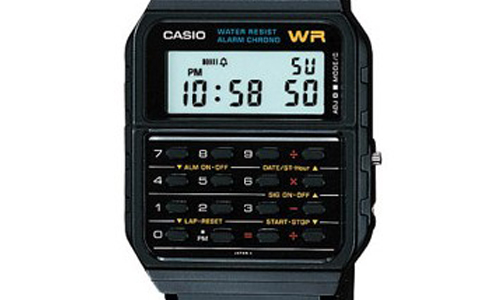 Casio Watch | $24


A GIFT FOR THE PERSON ALWAYS FEELING KINDA SAD AND BLUE
You know the type. The glass is always half empty.  Nothing is never enough. Everything is always so fucking tragic. And no, I'm not talking about Morrissey.
Since Zoloft can only be prescribed by a licensed doctor, your best bet is to gift the Shiny Happy People Bath Set by Lush.  Turn your blue and sad  friend to shiny and happy with a bath & body set full of fresh grapefruit to lift their spirits every morning, sandstone soap to scrub away cares and an Up You Gets Emotibomb to enliven the senses.
-Jacqy Law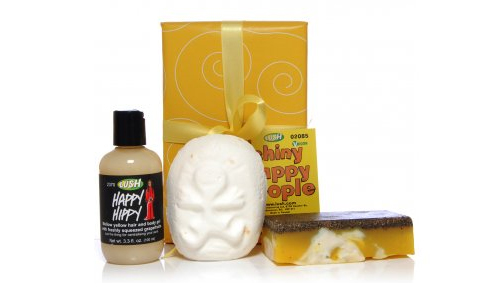 Shiny Happy People bath set by Lush | $15

A GIFT FOR THE ALWAYS ANNOYINGLY HAPPY FRIEND
You often wonder if they're taking Prozac, or if they have some kind of "deal" going with their pharmacist, because there ain't no way someone could be that fucking happy all the fucking time.  So you make them watch CNN to see starving Haitians, or read the crime section of the Post about the man who got shot last night in their neighborhood. You tell them the country is in a recession and show them pictures of dead kitties.  Yet they insist on making lemonade.  They're your fucking annoyingly happy friend who only gets happier during Christmas.
So while you want to gift them dirty socks to make them cry, fight the urge by giving them this jar of 365 Hugs and Warm Wishes. It's exactly what it says it is, folks–a jar that provides warm greetings for EVERY FUCKING DAY of the year.  And they'll love you for it.
-Mei Tan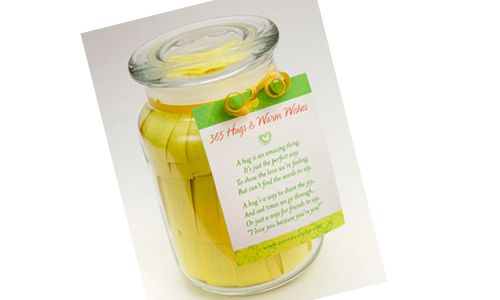 365 Hugs and Warm Wishes | $30


A GIFT FOR THE ALWAYS SO FUCKING SNARKY & CYNICAL
Every year when holiday shopping, we are all confronted with buying a gift for the worst type of acquaintance: Mr./Ms. I hate everyone and everything equally.
This barely-a-friend friend, loudly and regularly declares their disgust for the world and you wonder why they just don't end it all. They can be counted upon to ruin even the most heartwarming moment with a snarky comment that is dripping with cynicism.
The only appropriate gift for this type of person is a sweatshirt that allows them to announce to the world their not-so-original socially deviant attitudes. The fuzzy interior will help coddle their damaged inner child.
-Stanton Lawyer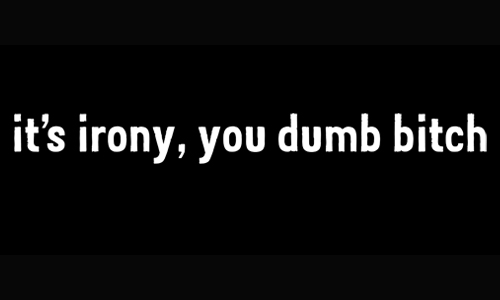 It's Irony T-shirt | $20


A GIFT FOR THE ARTIST
Have that one artist friend that can be inspired at any given moment? In the park, at a dinner or at a party, he suddenly is compelled to put his thoughts on canvas?
You can help him live in the now with this Buddha Board that allows him to doodle or draw with his fingers, paint brush, dinner fork, or any artistic utensil. Both the 12×9 laptop board and the mini Buddha board are easily portable as he roams the city for inspiration.
-Mei Tan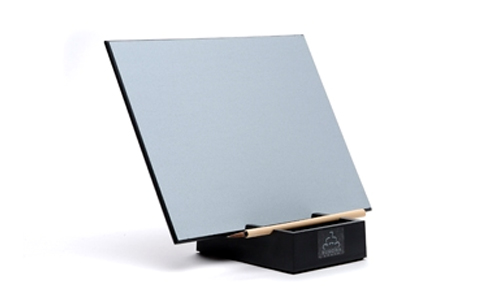 The Buddha Board | $32



A GIFT FOR THE ATHLETE
You know them. They're the annoying fitness gurus that get up before Farmer John gets his coffee to run ten miles, race a triathlon or deep dive in the ocean.
They're built like bricks, always drink Gatorade and make us feel bad about our bodies.
So for that friend that begins sentences with "I'm training" and uses words like "endorphins" and "powder shakes," they would looove this customized box of  You Bars. You can select from a range of nuts, berries, grains and protein powders and make them the ultimate power bar for their healthy, and well, draining lifestyle.   In the meantime, we'll be watching reruns of Biggest Loser.
-Mei Tan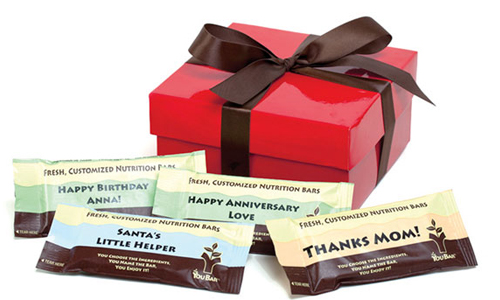 Customized Box of You Bars | $46



A GIFT FOR THE ANXIOUS A-TYPE
You don't know if your A-type personality friend has a bad cocaine habit or if they were actually born this way. Either way, whenever you're around them, you feel rushed, on edge, and have an irresistible urge to re-enact Cher in her snap-out-of-it Moonstruck moment.
Since a slap to the cheek might be taken the wrong way, help your anxious A-type friend chill out with this starter yoga  kit.  The kit includes a "sticky" mat, two foam blocks, cotton strap, a yoga posture poster, and a yoga CD.
-Jacqy Law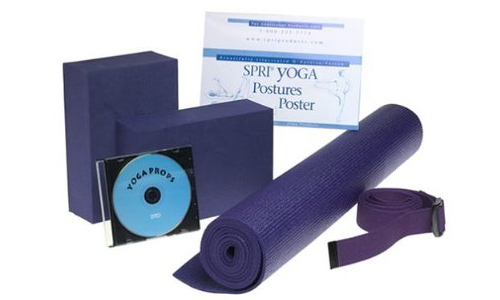 SPRI YSK-R2 Yoga Starter Kit with Yoga Mat | $39

A GIFT FOR THE BRAINIAC



Know someone that thinks the answers on Jeopardy! are just warm-ups to the final act? She was probably the girl in college who aced her finals and never studied while you were up since 1AM smoking coffee beans and popping sugar gum drops.
How about giving her a doosey with these Steel Tavern Puzzles from Dennis Sucilsky? Reproduced from the days of blacksmiths, these creative puzzles can have your friend flexing her mighty brain through eight levels.   Let's see how smart she really is!
-Mei Tan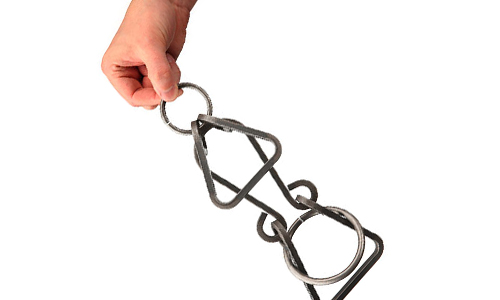 Steel Tavern Puzzles | $19


A GIFT FOR THE BUSY BEE PARENT
You've seen your friend a handful of times since they've had the baby. Said baby is now 4 years old. Typically, their weekends are filled with birthday parties, trips to the zoo, birthday parties, music classes, birthday parties, swimming lessons, and birthday parties. You can't keep up.
Since free babysitting is out of the question, the second best thing is this useful book, Unplugged Play – No Batteries. No Plugs. Pure Fun by Bobbi Conner.
This book celebrates the pleasures and virtues of old-fashioned play with not a screen, plug, chip, disk, or battery in sight. Your Busy Bee parent will find a total of 710 games for their little ones…to play alone, with siblings and friends, indoors or out. Toddler games, ten-year-olds' games, and games for the whole family.  There are craft projects, puppet ideas, music activities, card games, guessing games, plus loads of ideas for keeping little kids busy nearby. This gift will keep the kids busy so that your busy bee parent can get some deserving R&R.
-Jacqy Law
Unplugged Play – No Batteries. No Plugs. Pure Fun | $16


A GIFT FOR THE CLUBBER
Now that you're in your 30's, you prefer the bars to the clubs.  When you take your clubber friend to a bar, they're always bored to death- there's not nearly enough action going on for them.
Somehow, all those 3am nights fist-pumping to the thump-thump-thump-base has stripped them of their ability to kick back, have conversation and a couple of cocktails in a bar.   I call it PTCD (post traumatic club disorder). If there isn't flashing lights, deep base, and music so loud you have to yell to hear each other, then your clubber friend just sits there like a deer in headlights.
For the perpetual clubber, gift a Mirror Madness Disco Ball. This fun party starter will be useful for all those 4am after parties. Their neighbors will probably hate you for it.
-Jacqy Law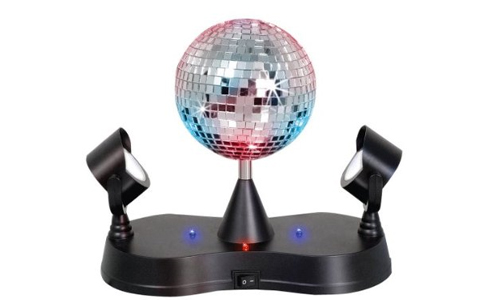 Mirror Madness Disco Ball | $29


A GIFT FOR THE COMMITMENTPHOBE
Each month brings a new relationship and you're convinced that your c-phobe has signed up for the Date-O-The Month Club.
After a month of dating, your c-phobe friend grows tired of their insignificant other. This is usually followed by the flaw hunt. You know, the part when your c-phobe friend freaks the fuck out and desperately looks for valid reasons why their relationship can't work.
Remember the time when their insignificant other mispronounced the word Supercalifragilisticexpialidocious? Or how about the time when your c-phobe friend dated that one person with "the toe that slightly pointed upwards"?
Surely, they could have worked that out, right?
Help a c-phobe out and gift them the easiest relationship they'll ever have with a low maintenance pet goldfish.  You can order your goldfish online and get it delivered straight to your c-phobe's front door.
Your c-phobe will learn how to nurture and care for another by feeding the fish once a day and by changing the water weekly.  Maybe in a year, he will move to warm-blooded animals. Remember, baby steps…baby steps.
-Jacqy Law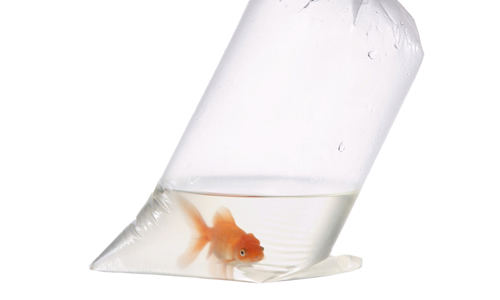 Goldfish by mail | $3 – $25


A GIFT FOR THE CONTRARIAN
You say black. They say white. You say up. They say down. There is never an agreement and everything deserves a second thought or a closer look. An argument for arguments sake.  You wish, for once, they'd just STFU and leave it at that, but the contrarian never does.
Why not add more knowledge to their repertoire with this handy pocket knowledge book. Easily carried in the pocket, this reference book is loaded with facts, figures, tables, and illustrations and will give references to almost anything that your contrarian friend wants to argue.
-Jacqy Law
Pocket Ref, 4th Edition | $11



A GIFT FOR THE CREEPY HERMIT
Rarely seeing the light of day, you'll find the reclusive hermit usually at home. The hermit can spend days inside and prefers the company of the internets than real live people.
Sometimes pale and socially retarded, the hermit is the one friend that you wouldn't be surprised to learn that that there's some dark, deep craycray going on.   Also, there's that striking resemblance to Norman Bates that always gets you a bit nervous. You're certain, that when visiting your creepy hermit friend, at least one person knows where you are, you never know, right?
Chances are, your friend probably isn't comfortable looking people in the eyes while talking, that's why this pair of Blue 50's Wayfarer Sunglasses just might be the perfect gift for your creepy hermit.  Bonus: it will take away the creepy and add more cool.
-Jacqy Law
Blue 50's Wayfarer Sunglasses | $30

A GIFT FOR DADDY'S LITTLE PRINCESS



Nothing is ever too expensive for Daddy's Princess. Gold, tiaras, diamonds–at least she ain't your daughter.  THANK GOD you found this fun and cute Marc Jelly Bracelet Set. It's probably the only thing from Marc Jacobs that won't burn a hole in your pocket.   And she'll just be happy that she scored something made by a man she worships other than her father.
-Mei Tan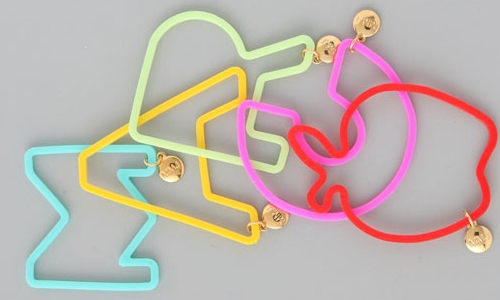 Marc by Marc Jacobs Jelly Bracelet Set | $15



A GIFT FOR THE DESPERATELY BORED HOUSEWIFE
She's got a husband who pays the bills and works in the city. They live in Wisteria Lane, where the fences are white and the lawns are Kentucky blue grass. Each morning, she gets up at 6:30, fixes her husband two eggs, bacon and toast before he jets off to work.  While she stays home…gardening, stamp collecting, watching water boil…
Oh, the life of the desperately bored housewife. She touches her ring to remind herself that she's living the American dream, but the days blur, and weeks become months, and months become…January.
What this woman needs is a good hobby!
So this Christmas, give her the gift of life with this Bushnell H20 10 x 25 H20 Roof Prism Binocular. It's fogproof, waterproof and has a rainguard so she can spy on her neighbors without a care for the weather!   Lord knows Mrs. Anderson has something to hide.
-Mei Tan
Bushnell H20 10 x 25 H20 Roof Prism Binocular | $34



A GIFT FOR THE DJ
It's hard to be a DJ sometimes. The noisy club, the drunken frat boys, the annoying OC party girl that taps your shoulder at midnight and demands that you play "something good," and by "something good" she means Nickelback.
Sometimes a DJ just wants to drown out the white noise and pump up the music. For Christmas, give the gift of silence to your DJ friend with these Noise Canceling Headphones from Sharper Image. They'll allow your friend to zone out the world and groove to those steady beats.
-Mei Tan
Bushnell H20 10 x 25 H20 Roof Prism Binocular | $34



A GIFT FOR THE DRAG QUEEN
The drag queen is ferosh and fabulousness bundled in all things glam. Holiday shopping for a drag queen may be the only time appropriate for buying an over-the-top gift.
Shu uemura, makeup retailer and master of custom fitted eyelashes, created fabulous custom diamond encrusted eyelashes for  Madonna.  Lucky for you, and your favorite dragalicious diva, the retailer sells an affordable version of the famous $10,000 diamond-lined false eyelashes. A perfect and elegant gift that's worthy of any drag queen. After all, diamonds are really a drags best friend.
-Jacqy Law

Dazzling Black Diamante False Eyelashes | $27



A GIFT FOR THE ETERNALLY SINGLE MALE
You've got an amazing personality and she'd be a fool not to date you.
You just keep saying that to your male friend who just has no luck in the dating scene.
What you don't say is that he keeps missing important details like, cleaning his fingernails, applying deodorant on a regular basis or keeping his shoes cleaned.  You can't solve all of your single friends problems but you can make sure that his significant investment in collared shirts isn't ruined by misshapen collar.
Jan Leslie offers brass collar stays at a reasonable price with the added bonus of a stamped inspirational saying. It won't get girls to his bed, but at least he'll look okay when he tries.
-Stanton Lawyer

Stay Stiff Brass Collar Stays | $20


A GIFT FOR THE EX
Are you angry at your ex and can't let go? It's been three years and you've been in therapy obsessing over it?
Find your inner peace and release with this Peaceful Bomb Vase that you can give to your ex and call for a truce. Designed as a statement against war, the Peaceful Bomb Vase tells your past honey, "hey, let's not fight anymore." You'll thank yourself later when you feel better and save money on the shrink.
A Peaceful Bomb Vase | $49



A GIFT FOR THE FILM BUFF
Yes, your bestie has screened ever single film in the canons of every major auteur since the beginning of film. No, you should not suggest going to see the latest French drama because your friend already saw it 6 months ago at some major international film festival and will scoff at the suggestion.
The only appropriate gift for your film geek friend is something they wouldn't have naturally stumbled upon themselves.
Enter the Criterion Collection's Complete Monterey Pop Festival on Blu-Ray. Unless you were there with a Super-8 in hand, you cannot and will not find a more complete collection of footage from the historic music festival . Criterion has done the legwork for you and assembled 3 films plus all of the performance footage shot by D.A. Pennebaker.
-Stanton Lawyer
The Complete Monterey Pop Festival | $55



A GIFT FOR THE FOODIE
According to Restaurant Magazine, after four years, the famed El Bulli is no longer the best restaurant in the world. It is has been supplanted by Noma, a Danish restaurant.   Impress your food snob friend with this cookbook by the Chef and Co-owner of Noma, René Redzepi.
If your friend should question why you provided them a book from a hitherto-non-celebrity chef, feel free to question their foodie credentials, and then inform them of the provenance of the book and the chef…don't forget the sprinkle of smugness.
-Stanton Lawyer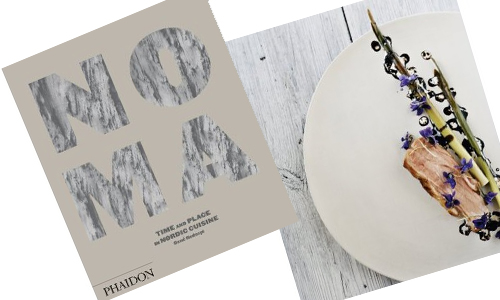 Noma: Time and Place in Nordic Cuisine | $32


A GIFT FOR THE FRAT BRO
They drink beer. They don't care what kind, as long as it gives them a good buzz. And sometimes, when they feel brave, they'll smash the Budweiser can with their foreheads.   Oh yes, they are drunken and obnoxious frat boys.    They might have been your friend in college. Five years later, they're still your friend, and that's about all that's changed with them.   And you're tired of spending your Friday nights with them playing beer pong.
So why not switch it up with this Air Hockey Tabletop Game? It's made for two, and chances are, drunk air hockey might actually be fun.
-Mei Tan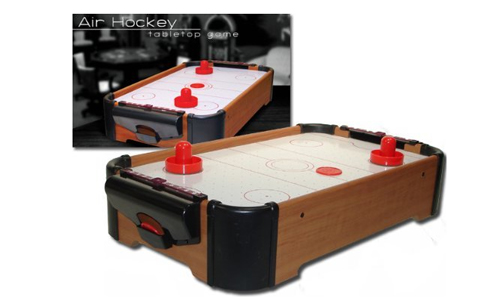 Air Hockey Tabletop Game | $28


A  GIFT FOR THE FRIEND THAT REFUSES TO GROW UP
Oh no, there's that guy again. You know the one. That person who thinks that glow sticks will somehow make them appear a better dancer, magically replacing any ounce of body rhythm or cool moves with swirling streams of mesmerizing light.   For that friend who may fit that attention-seeking mold, the Rock the House Equalizer T-Shirt from Fred & Friends may save the day (or at least help him find the beat) with illuminated graphics that pulse to the rhythm of your music.
-John Colon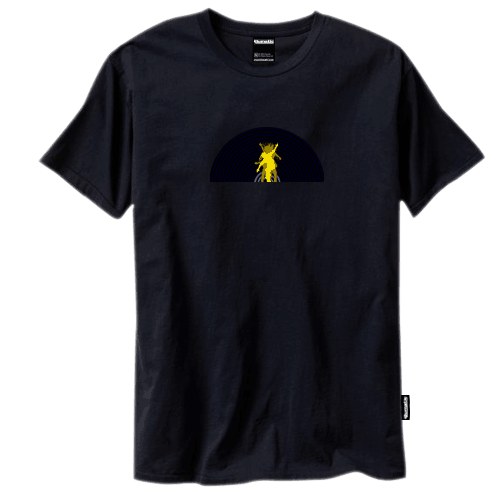 Rock The House Equalizer T-Shirt | $34


A GIFT FOR YOUR GAYMAZING BFF
What's a girl without her gay BFF?  It's a relationship without the  sexual tension, and you can tell him almost ANYTHING.
You can also give him personal gifts without the worry of sending mixed messages, like this Fragrance Sampler For Him by Sephora.
Your BFF will receive 14 fragrance samples from luxury brands like Givenchy, Yves Saint Laurent, Jean Paul Gaultier and Bvlgari. He can then try the fragrances, and, when he's ready, pick the winning selection to redeem it for a full bottle of his choice.
And hey, it's a gift where the receiver does the picking!  Only the best for your GAYMAZING BFF.
-Jacqylaw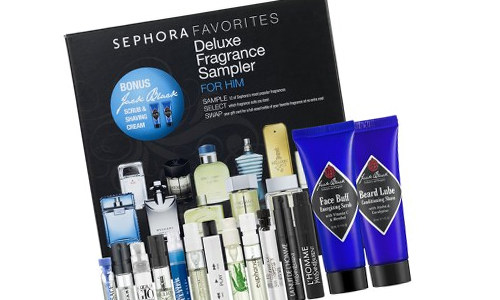 Deluxe Fragrance Sampler For Him | $50

A GIFT FOR THE GERMAPHOBE
Consider this gift advice from the source.
I never drink after anyone, including my own mother.  I carry two different types of sanitizers in my purse at all times and I can tell you the dirtiest parts of a bathroom and why I will never sleep on or near a hotel comforter. I take 2 showers a day at minimum and I always use a paper towel to open a public bathroom door.
Some call me crazy, I call it eliminating the risk of contracting some deadly disease by bacterial germs and human waste.  As a risk eliminator, my greatest purchase EVER, was my Sensor Soap dispenser.
Upon said purchase, I no longer worried about who's been touching what and where their hands were before they touched my soap.  Give the simplehuman Sensor Pump and your germaphobe friend will be eternally grateful you've eliminated an unnecessary risk from their lives.
-Jacqy Law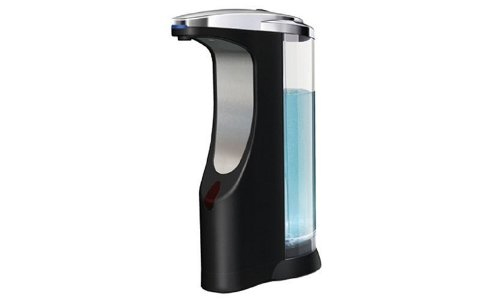 simplehuman Sensor Pump, for Soap or Sanitizer | $27


A GIFT FOR YOUR GRANOLA FRIEND
Having been brought up in San Francisco, it seemed as if all my high school friends were the children of parents from the Haight-Ashbury era. The smell of patchouli oil and weed was a common occurrence on any given visit.   I'd try to avoid using their bathrooms as often as possible, as I was not a fan of the "Down With the Brown, Mellow on the Yellow" philosophy.  An invitation to dinner from a granola-parented friend always included a macrobiotic meal that tasted like straw and camel ass.
Needless to say, I started making other friends.
If you live in San Francisco or Amsterdam, gift a perfectly rolled joint to your granola friend. If not, give him this Chi Oil Burner Spa Set that will balance his "chi." It also would rid the house of the patchouli incense smell from the 1970's.
-Jacqy Law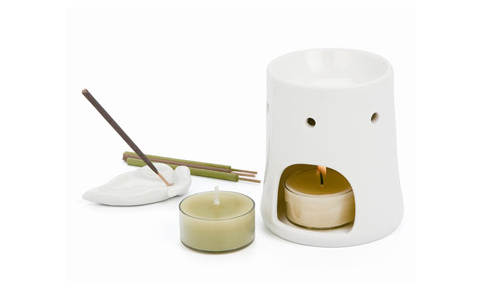 Chi Oil Burner Spa Set | $12


A GIFT FOR A FRIEND WHO HASN'T BEEN RAILED IN MONTHS
There's a reason your friend hasn't banged in forever and a day. Truthfully, that's not your problem and you really can't solve whatever long-term issues are at the root cause.  However, you can give them a one-night fighting chance with this giant hornet honey and scorpion infused vodka. Have them make martinis out of the honey and vodka and serve to the object of their short-term infatuation. The double dose of aphrodisiacs with a vodka floater should work wonders. Frankly, anyone adventurous enough to drink these two ingredients probably is willing to help your friend knock the dust off their naughty bits too.
-Stanton Lawyer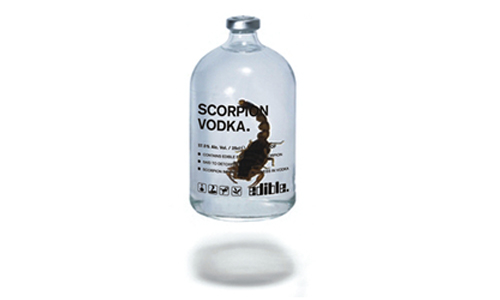 Scorpion Vodka 7cl | £9.00 GBP


A GIFT FOR THE HIGHBROW
The highbrow is always a step above everyone else. While your reading consists of Vogue and Twilight, they read the New Yorker and Proust.  You sometimes like popcorn flicks, they only watch art house films.  You'd easily find the highbrow at a dinner party sipping their Pinot Noir (certainly NOT Merlot!) discussing the philosophy of Nietzsche and his influence on existentialism and postmodernism.
Give your culture snob a gift of  The Notable Novelists Card Game.  The gift  features some of the most popular & provocative notable novelists of the 20th century like Vladimir Nabakov, Zora Neale Hurston, Saul Bellow, and more.
Preferably, you should give the gift at the end of the night. Said friend might want to play with you and find out how utterly lowbrow you really are.
-Jacqy Law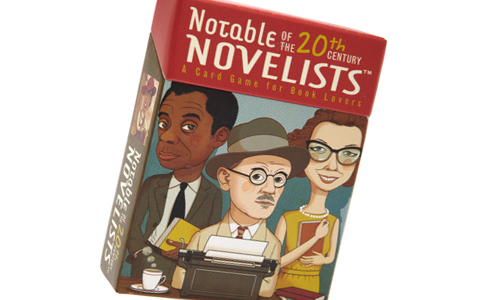 Notable Novelists Card Game | $10


A GIFT FOR THE HOSTESS OF THE MOSTESS
She's normal in every other situation, except when the company arrives .  Every time you visit, you can't help to wonder if a Stepford wife has invaded her body. Her house is always spotless and perfect.  She serves you cute little drinks in cute little containers with cute little flavored sticks, her bathroom toilet paper is orgami'd in fan shapes, and you can never figure out how she made those oh-so-perfect handwritten seating cards. Save her time and elevate her food presentations with this Trio Plate Set designed by French designer Jean Marc Gady.  She'll love you for it.
-Jacqy Law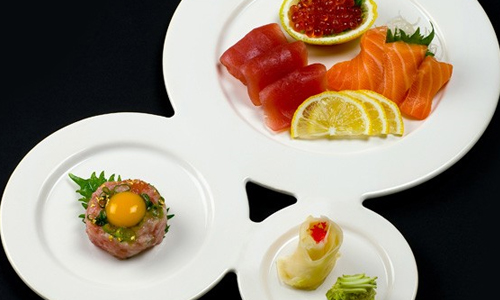 Trio Plate (Set of 2) | $48


A GIFT FOR YOUR HOT FRIEND YOU SECRETLY WISH YOU WERE DATING
Everytime you walk into the room I get butterflies in the pit of my stomach. I can talk on the phone, text, and gchat with you all day and never get tired of you. You are hotter than all of my previous exes combined.
You think these things about your smoking hot friend and yet you don't have the heart to say them. You want to give her an amazing gift and yet can't give something with too much personal meaning because, well, you aren't there, yet.   Give booze, and give good booze…especially if it comes in an amazing giftbox like the Vueve Cliquout fridge. Hopefully the apple of your eye will take the hint and pop the top with you. Let the l'amour fou begin.
–Stanton Lawyer
Veuve Clicquot | $49


A GIFT FOR YOUR "I'M IN A BAND" FRIEND
Joan Jett, AC/DC, The Clash–they all made us want to be in a rock band, and hope that one day, we'd be the rehab victim showcased on VH1 Behind the Music.   But life set in, and we realized that eating was a necessity and playing in dirty bars with smelly urinals was really, not for us.
Still, we admire the friend who–God bless him–continues to rock out because its all about the music. And he'll march to the beat of his own drum with this cool, Stylophone Beat Box. He can create multiple tracks and record his own beats that can be played with the band.
-Mei Tan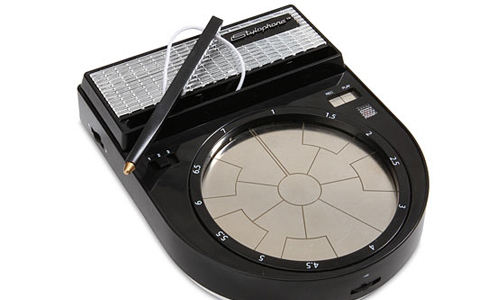 Stylophone Beatbox | $24


A GIFT FOR THE INDIE CRAFTER
Who says it takes the mad stencil skillz of a seasoned street artist to pimp up a wall?  Awesome wall stickers from Hu2 Design can make your Indie Crafter's baseboards her next crafting project.  Graphic, educational, creative, and even inspirational,  the eco-friendly decals go on walls, windows, furniture, appliances–you name it.
-John Colon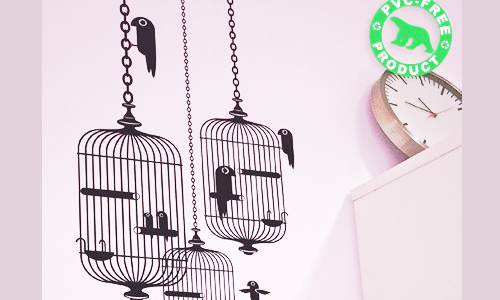 Hu2 Wall Stickers | $25 – 60


A GIFT FOR THE INSEPARABLE COUPLE
You know that couple all too well.  You never do anything alone with them because it is inevitable that you will be subjected to their inappropriate PDA, love-name calling and cooing all night.
You always get the 2-fer one deal with them.
They never go solo, even if it is a girl's night out. He'll come along, and the other girls will give him the evil stink eye all night hoping he'll get the point and keep his ass home the next time.
Since a Two-da-Loo cost upwards of $1,000, and it's likely that these two won't be hosting anytime soon, give the inseparable pair a pair of  these Sexy Bitch and Stud Muffin ceramic plates.  They can sit at home, eat off these fab plates and coo at each other until their heart's content.
-Jacqy Law
His and Hers Dishware |$42

A GIFT FOR THE "IT'S ALWAYS 420 TIME" FRIEND
Because it's such a draaag to go all that way to buy more munchies after you've um, been smoking the funny tobacco. The Mini Donut Maker is the perfect gift for the connoisseur of baked goods, a.ka., your "It's Always 420 Time" friend.  Just throw in some cake batter and under four minutes you've got 6 tasty little delights! Nom Nom Nom
-John Colon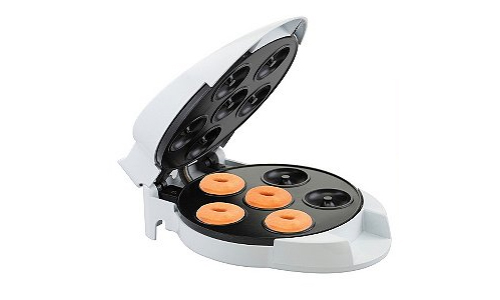 Mini Donut Maker | $30


A GIFT FOR THE JETSETTER
They're always running off to Milan or Peru…or the Congo. Their passports are as colorful as their stories–like the one of Charlie, the smoking monkey in South Africa who can spin a cigarette, or Hutu, the crotchety amazon man who taught them how to carve a row boat from a tree trunk.
And yet you wonder, with all the traveling, how do they…errr, deal with their undergarments. Certainly, they must have a system. Or not. Every good traveler needs to know what clean underwear they've got left. And while they can rely on their olfactory senses, that's really just disgusting. So help them out with the Flight 001 Spacepak Underwear. It's design to maximize luggage space and separates the dirty from the clean underwear.
-Mei Tan
Flight 001 Spacepak Underwear | $46


A GIFT FOR THE JOBLESS FRIEND
You might be an enabler, but it sometimes gets exhausting (and expensive) to constantly be the one to "buy the next round."  But you totally get it because your jobless friend is down on his luck and can't seem to get out of the unemployment rut.
But that doesn't mean he can't enjoy a cold one like the rest of us. Gift your jobless friend The Mr. Beer Premium Home Brewery kit. It has everything he would require for his drinking needs and help him fight the jobless blues. That way, you two can cheap it out together and he can "make the next round."
-John Colon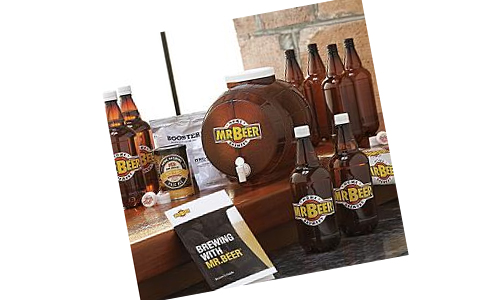 Mr. Beer Premium Home Brewery | $49


A GIFT FOR THE LATE ARRIVER
The late arriver is never on time. No matter the occasion, they're always running an extra 15 minutes late. Though, there was that one time when they showed up early but it was an unintentional coincidence and happened once in the three years you've known them.
You've tried the "tell-them-to-meet-15-minutes-earlier-than-the-actual-time" technique to no avail. You worry that if you ever did need them to be on time, like for an emergency trip to the hospital, they'd show up while you were five minutes passed dead.
For the holidays, give your late arriver a modern Unfinished Clock from the Museum of Modern Art Store.  It goes perfectly with any decor, plus the clock is so dazzling that your "tardy for the party" friend can't help but to pay attention to the time.
-Jacqy Law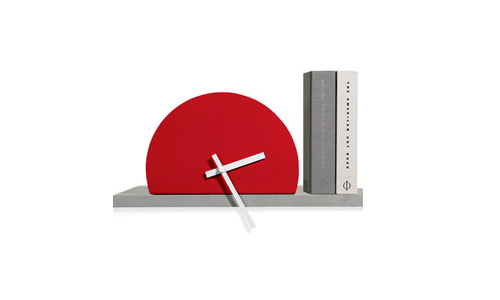 Unfinished Clock | $46



A GIFT FOR THE MIDWEST DAD
Since the dawn of man and discovery of fire, dads have loved to grill. There's just something in their DNA that makes them drool at Sears when they imagine BBQing raw meat on open flames using some Weber grill.
It's probably the same way we women feel about Jimmy Choos.
So to go with that fancy grill, why not give your midwest dad a personalized Grill Master BBQ Utensil Set? It's heavy duty, made of sturdy wood and stainless steel–all things that would make him feel like a manly man when he's smoking ribs out in the backyard.
-Mei Tan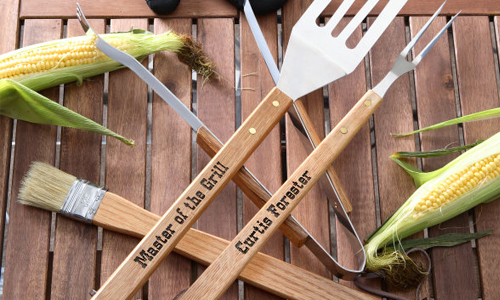 Barbeque Master© Personalized 4 Piece Set | $31


A GIFT FOR THE MIDWEST MOM
Moms just looove showing those embarrassing photos of us. Remember when were were five and she gave us a bowl hair cut, and we had no free will to fight her back? She probably has a hundred of those pictures falling out of her wallet somewhere.
So why not help your midwest mom out with this Digital Pocket Pix by Be™? It handy enough to fit in the littlest of pockets and carries up to 180 pictures.
You're 2,000 miles away, anyway, so why not make her happy when she pulls one out and shows it to the hot, next door neighbor?
-Mei Tan
Be™ Digital Pocket Pix | $14


A GIFT FOR THE FRIEND THAT NEVER LEFT THE 80'S
Do you know someone that grew up in the 1980's but never left? Perhaps they never quite gave up on that pair of acid washed jeans and their flock of seagulls haircut.
Why not indulge their enthusiasm for all things 80's with The Brat Pack Movies + Music Collection? The Brat Pack Movie + Music Collection includes DVD versions of the 1980 movies Sixteen Candles, Weird Science, and The Breakfast club, and also comes with an extra CD featuring eight great '80s songs, including True, If You Leave, Weird Science, Oh Yeah, and Don't You Forget About Me.
-Jacqy Law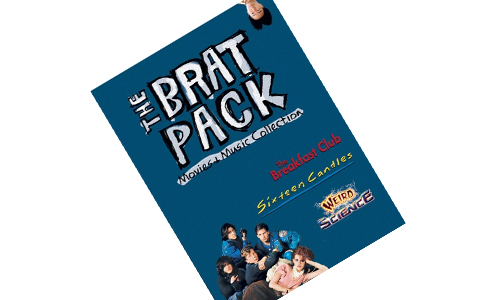 Brat Pack Collection (The Breakfast Club/ Sixteen Candles/ Weird Science)  | $21


A GIFT FOR THE FRIEND FROM THE HOOD
Cognac – check. Celebrity endorsed – check (Ludacris). New to the market – check. Hood credentials – check. Sure to be loved by your friend from the hood– check.
Conjure Cognac, sip it slow.
-Stanton Lawyer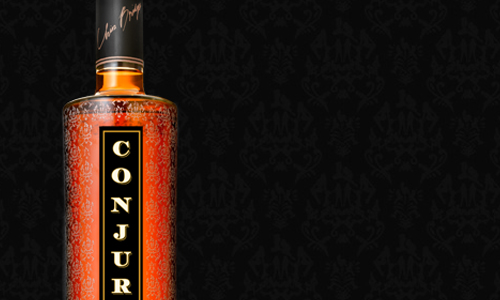 Conjure Cognac | Price Varies



A GIFT FOR YOUR "ONE NIGHT STAND AWAY FROM AN STD" FRIEND
You know that buddy of yours who you would never share a drink with lest you catch something on you lip that doesn't go away.
Aren't you tired of hearing their stories of conquest and knowing that they will never admit the large amount of shame that comes along with their escapades?
Help your "one more one night stand away from an STD" friend class things up a bit by alleviating some of the pain of their regularly scheduled walks of shame.
Momma always said thank you notes make everything better. Classy letter pressed stationery with cutesy characters is sure to further soften the blow and leave a slightly less bitter taste in your friend's recent conquest's mouth. Mouthwash not included.
-Stanton Lawyer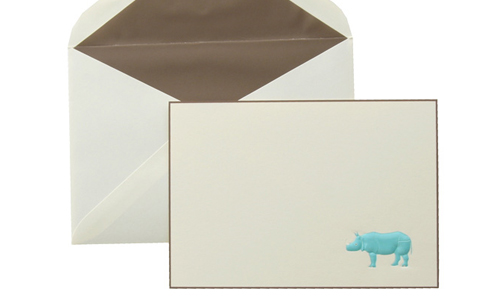 Winged Wheel Stationery | $8


A GIFT FOR THE PAMPERED PRINCESS
Life's hard for a princess. All the shopping, and the spas and the maxing out of credit cards–when is she ever NOT on her feet???   Sometimes, a girl needs to sloooow down, find her inner "ah-ha" and just relax.  So this Christmas, help out your pampered princess by giving her this Complete Foot Care Gift Basket™.
She can take the night off, kick back and go nuts lotioning and massaging those sore, sore feet.  Or, you can do it for her. Take your pick.
-Mei Tan
Complete Foot Care Gift Basket™ | $49


A GIFT FOR THE PERVERT
You know that guy who only adopted the cute dog with one eye and three legs because he thought it would help him pick up women?
It's a sad commentary on the world that the hideous pup actually does help him meet women. The owner's complete lack of personality and any modicum of game is why it never progresses past the dog park.
Help your pervert friend and his fur-ball remember the women he meets with a Pet's Eye View Camera. The sketch factor increases ten fold if the pup has a habit of sticking its head in crotches.
-Stanton Lawyer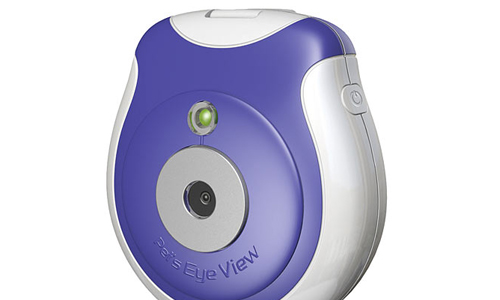 Pet's Eye View Digital Camera | $49



A GIFT FOR THE PROFESSIONAL COLLEGE STUDENT
Most students graduate from college and do what most normal Americans do–work for the man. Other students, switch majors, find their inner-self, and well, stay in college.
Have that one professional college student friend that's been in school for the last decade? You've, by now, got a one-bedroom apartment and they've got two graduate degrees and live with five roommates.
Because they're always working on some kind of dissertation on their laptops, why not gift them this ultra cool laptop sling with prints by colorful artist, Alexander Girard? They may be broke students, but at least they don't have to look like one!
-Mei Tan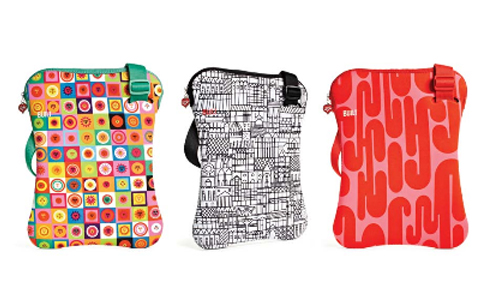 Laptop Sling | $50


A GIFT FOR YOUR PUNK ROCK FRIEND
Your friend has seen many a mosh pit in her lifetime. She is usually decked out in black, combat boots, and piercings that run head to toe.
Weekends are for shows and their record (yes, record) collections hosts names like The Ramones, The Slits, X-Ray Spex, Fear, The Misfits, and Iggy Pop. You, on the other hand, are at a complete loss as what to give as a holiday gift.
Try accessorizing your punk rock friend with a Screen Printed Leather Cuff. These unisex cuffs are made of awesomeness and your friend will love you for your coolness.  After all, a punk rocker can never have too many leather cuffs or skull rings.
–Jacqy Law
Screen Printed Leather Cuff Gears with Swing Clasp | $40


A GIFT FOR YOUR SHOPAHOLIC FRIEND
She's got Ebay down to a science.  She knows the precise moment when she will need to increase her bid in order to win.   Half of what she buys she doesn't need and she'll never be able to resist a good sale. Forget the fact that she can't afford it. She'd rather eat ramen for a year then miss out on that half priced Fendi bag.
So, what's the perfect gift for the Shopaholic that already seems to have purchased everything off the internet?
What better a gift than one that allows your shopaholic to carry more then she can carry on her spending excursions? This 5 piece Envirosax Floral Bloom Market Bag is a handy must for any seasoned shopper. Each recyclable bag comes in a pouch easily held in any purse and becomes an extra shopping bag to carry more things. Bags also come in multiple color and pattern options.
-Jacqy Law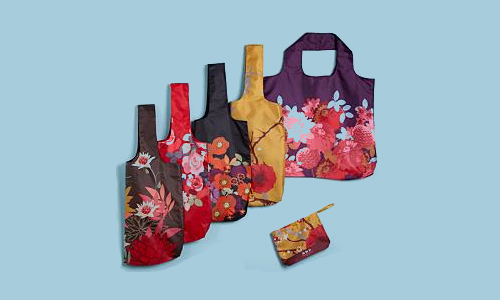 Envirosax Floral Bloom Market Bags| $39


A GIFT FOR THE STYLE MAVEN
Surprise your fashionable friend with this UO Star Cocktail Bag by Urban Outfitters Christmas morning. It's adorable, festive and is the exclamation point to any dress.   But beware, you might surprise yourself by how much you like it when you're trying it on with an LBD in front of the mirror. Maybe you should keep it for yourself, ladies.
-Mei Tan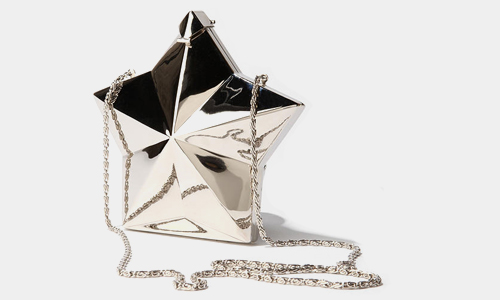 UO Star Cocktail Bag | $48


A GIFT FOR THE TRAGICALLY HIP HIPSTER
Finding a gift for the tragically hip hipster can be quite the task. You're at a complete loss as to what's deemed "hip" to the ever elusive hipster, and you're also looking for something more original than a case of Pabst Blue Ribbon or a pair of tickets to the next Die Antwoord show.
A foolproof gift for your tragically hip hipster friend is this Felt Feathered Fedora by Aqua.  Your hipster friend will adore this vintage-inspired hat, and she can pair it with any outfit she might wear to that late night party in Williamsburg.
-Jacqy Law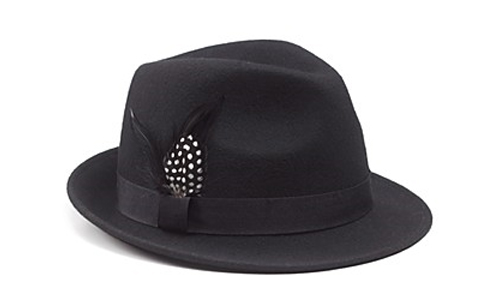 Aqua Felt Fedora | $31