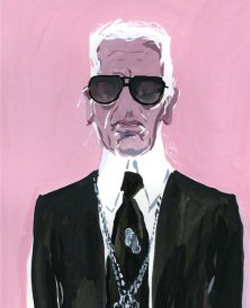 Art book publisher, Taschen, has spent the better part of the last three decades being a trailblazer for the underdog.
The German based publishers have been a domineering force in helping taboo art meld into mainstream media and innovation has been the name of their game.
Taschen has recently released their latest visual masterpiece, "Illustration Now! Portraits".
In this 416-page ode to the human likeness, 80 illustrators explore the art of caricature and realism. Original works by renowned illustrators and unheralded names such as  Aaron Jasinski, Alex Gross, André Carrilho, Andrea Wicklund, and Anita Kunz are all represented
The faces you'll see represented in this book will be familiar ones. From Amy Winehouse to Pete Doherty or Karl Lagerfeld and Michelle and Barack Obama – they're all here. Some of these images are poignant while others comical, yet all are truly inspired.
Although the concept may seem trite – who really needs another picture of these people? – The execution is superb. The world of pop culture has been cast in a new light, and Taschen has, yet again, transcended the lines of mainstream and underground delivering to us a true work of art.
---

Saron is a writer and student born in Ethiopia and raised in Washington, DC. She is incapable of keeping a phone for longer than a few months, exclusively wears Miss. Dior Cherie, and her guilty pleasures include any novel written by V.C. Andrews (don't judge), Essie's "Little Brown Dress", and Stoli. She is currently obsessed with the poetry of Edmund Wilson and The Arctic Monkey's latest album "AM".
All author posts