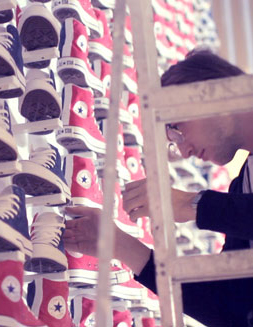 Converse All-stars have always been iconic. They're classic, edgy, and are worn by hipsters, art students, and alternative high school kids.
Now there is one more reason for fans to love these famous canvas shoes–the company is using the shoes to make an interesting artistic statement.
The people at Converse have assembled a motorized wall of more than 480 shoes in a project called "The Canvas Experiment".
Turned in a certain way, the myriad of footwear can spell out messages or create pictures.
Unsatisfied with only one grand shoe art piece, Converse is inviting three other artists to create their own masterpiece with hi-tops, including German artists Mentalgassi.
Here's to even more reasons to love your old beat up pair of converses!
Check out the video below to watch 480 chucks move to Bjorn's guitar riffs.