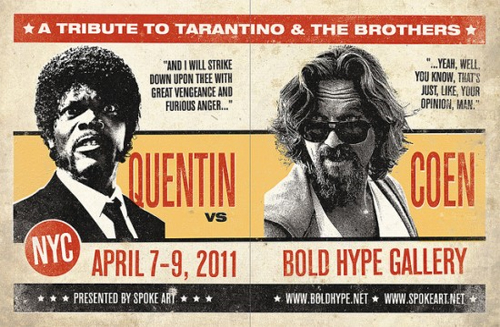 This may be the coolest art show, EVER.
San Francisco's Spoke Art is traveling to New York to produce their next art show, Quentin vs. Coen, which is a tribute exhibit to Quentin Tarantino and The Coen Brothers, who, in my opinion, are some of the greatest filmmakers of our generation.
The movie master of dialogue, Tarantino, brought us hits like Pulp Fiction, Reservoir Dogs, True Romance,  and Kill Bill and the Coen brothers gave us cinematic masterpieces like Raising Arizona, Barton Fink, O Brother Where Art Thou?, Fargo, No Country for Old Men, and recently, True Grit.
Really, how perfect is this?
The show, which will open from April 7 to April 9 at the Bold Hype Gallery in Manhattan, will feature  100 artists that will reinterpret their favorite scenes, characters, films and posters.
For more information, visit Visit boldhype.net or call 212-868-2322.
In the meantime, check out some of the works that will be shown at the exhibit.