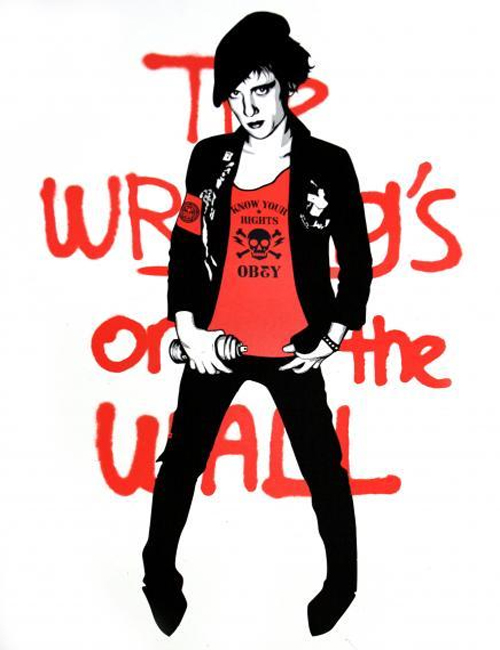 This Tuesday, I was fortunate enough to visit an exhibit from renowned street artist and perhaps even, philosophical campaigner, Shepard Fairey at the Magda Danysz Gallery in Paris.
Fairey, who is made famous for his creation of the Obama "hope" poster, is an artistic savant who has reshaped the whole concept of street art in a passionately and politically creative way. Fairey transforms his poignant views into a visually persuasive idiom.
Fairey emerged from the American skateboard scene and worked on the covers of many rock albums, like Smashing Pumpkin's Zeitgeist, Led Zeppelin's compilation Mothership, and Anthrax's The Greater of Two Evils. Fairey's artwork is intimate, powerful and controversial, and yet, sincerely accessible in its representation.
Shepard Fairey Album Covers
His recent "Print Show" in Paris, displaying more than 120 pieces, opened last Saturday and showed a versatile collection that encompassed a variety of psychedelically Andy Warhol inspired, and Chinese Communist propaganda motivated imagery. His prints mixed a postmodern, punk attitude with an inherit nostalgia to the American hippie movement.
The show also included his famous "Obey Giant" pieces, a mixture of pop-music prints, and an assortment of vibrant political posters advocating peace and an end to war. The center of the exhibit was a colorful correlation of images depicting individuals holding rose stuffed weapons. This ironic image is exemplary of Fairey's prevailing style.
For Fairey, art is a call to social and political action. Each piece is enthused with energy and speaks wonders on important and worldly topics.
It was clear after seeing the exhibit that Fairey is not just an artist creating art. He seems to be reconstructing the very core of artistic expression. Set in exposing political oppression, picking apart social taboos, while all the while shocking his spectators into having at least some sort of emotional reaction, it's clear that Fairey inhibits a new creative realm, approaching an overarching theme of political activism that triggers both astonishment and contemplation.
The "Print Show" will run until June 18th at the Magda Danysz Gallery in Paris' 11th Arrondissement.
Magda Danysz Gallery
78 Rue Amelot
75011 Paris
01 45 83 38 51