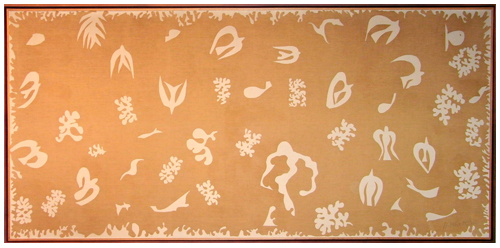 In fashion, it's not uncommon to spend over $1000 on the latest pair of pumps.
But how much would you pay for a scarf? If you're a fan of Henri Matisse, the answer is pricy, as an original Matisse-print Ascher scarf sold for an astonishing $4.8 million at a Christie's auction in London.
According to Vogue UK, the renowned artist was approached by Ascher London founder, Zika Ascher, in 1946 to design for the Ascher label. Matisse agreed, and created an original print, Oceanie, La Mer. The print was produced on a limited run of just 30 scarves.
While the whereabouts of the other 29 are unknown, it was one of these original 30 that was sold to an undisclosed bidder.
"I think this result speaks to the originality of the Ascher Artist Squares project, and of course to the genius of Matisse," Sam Ascher, creative director of the company and grandson of Zika told Vogue UK. "It makes me very proud that the concept and the collaborations originated by my grandfather are still treasured today."
And for $4.8 million, the undisclosed, very, very rich bidder should treasure his expensive prize. $4.8 million today could mean $4 hundred million tomorrow.