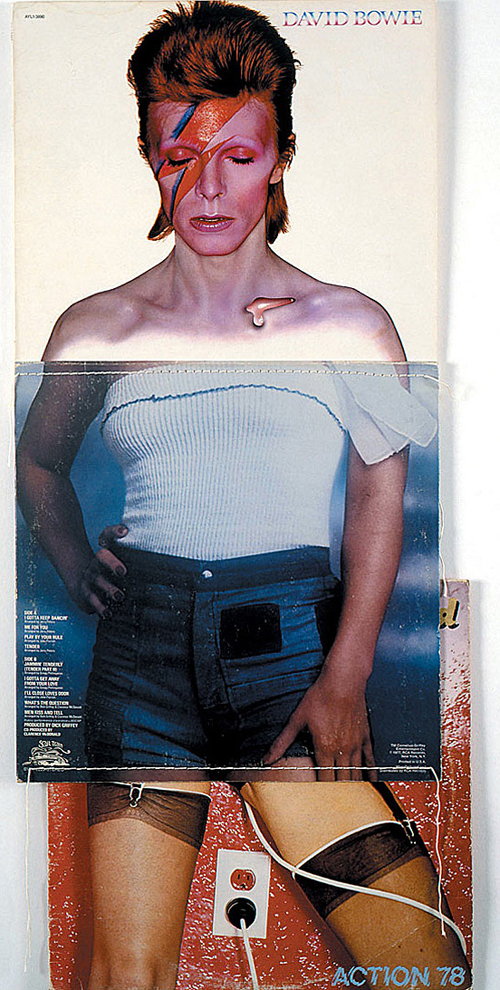 An artist in almost all respects, Christian Marclay has been dubbed a pioneer for his work with visual and audio arts.
Credited, by some, for the invention of 'turntablism', Marclay's 'sound collages' or 'Recycled Records' have been musical staples since the late 1970's. For those not familiar with the term, a sound collage is simply a montage of previously recorded scores of music to create an original work of art.
In 1991, Marclay decided to make collages by piecing together album covers to create his own works of art. The Beastie Boys, Donna Summers, AC/DC, David Bowie, and even Michael Jackson have contributed to Marclay's aesthetic endeavors.
He called them his "Imaginary Records". He used these images first just as another means of making music visual, but soon his "Imaginary Records" began to dig deeper.
With his collection called "Body Mix" Marclay explored sexual stereotypes and the place of music in a world built upon socially constructed labels.
Gender, race… it didn't matter, within Marclay's collages, everything fell perfectly into place – all pieces of the same puzzle.
Marclay's concept was not only original, but also seamless in its execution. He managed to piece together these images, just as he had with his 'sound collages' to create a final product that offered a new way to appreciate and celebrate cover art.
He forced the world to look through his art into a world without boundaries.
---

Saron is a writer and student born in Ethiopia and raised in Washington, DC. She is incapable of keeping a phone for longer than a few months, exclusively wears Miss. Dior Cherie, and her guilty pleasures include any novel written by V.C. Andrews (don't judge), Essie's "Little Brown Dress", and Stoli. She is currently obsessed with the poetry of Edmund Wilson and The Arctic Monkey's latest album "AM".
All author posts