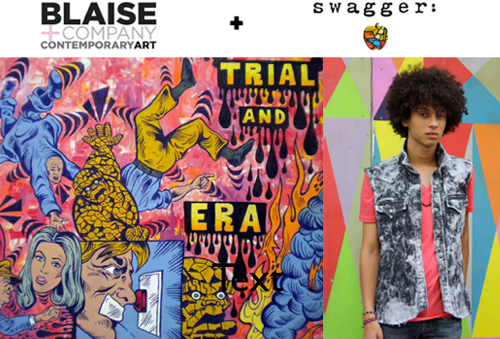 If you're in Manhattan next week, then you might consider attending artist Damon Johnson's new exhibit, The Beautiful Chaos: A Style Installation, which is currently on view at Lower East Side's GALLERY BAR.
The highly anticipated exhibit is a collaboration between Blaise + Co. Contemporary Art and Swagger, a New York based blog that focuses on street style and trends.
Combining street art with fashion, Johnson's work explores the fusion of these two underground disciplines by using wall graphics from WALLS 360 to create his installation pieces.
When asked more about his exhibit, Johnson had the following to say:
"Because I've been given the opportunity to adapt my technique to a material no other artist has ever worked with, this installation is a wonderfully unpredictable work in progress.

It is definitely beautiful chaos. I'm thrilled that Blaise + Co. and Swagger: New York discovered this incredible WALLS360 product."
The exhibit is currently on view from March 8 to March 21 at GALLERY BAR located at 120 Orchard Street.
The official exhibit opening will be held on March 16th from 7 – 10pm.
For more information about The Beautiful Chaos: A Style Installation exhibit, click here.