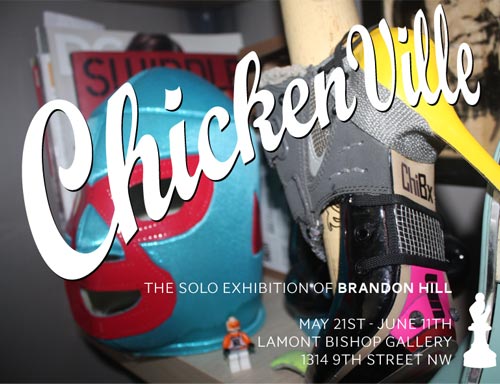 If you're in D.C. tonight, an art opening you might consider attending is Baltimore native Brandon Hill's ChickenVille solo exhibition.
The official opening, which will be held on Saturday May 21  from 7 p.m. to 11 p.m. at the Lamont Bishop Gallery in Washington D.C., will be Hill's first solo exhibition featuring his new works.
In describing ChickenVille, Hill explains it as a "place defined as a jubilant mixture of Americana, technical proficiency of craft and ideas of pop-culture, sci-fi, lore and legend, all meeting on the same plateau."
The ChickenVille exhibition will feature a large selection of Hill's interpretation of deck art, 2-dimensional works, sculpture, and light installations.
For more information on Hill's ChickenVille exhibition, please click here to visit Lamont Bishop Gallery.
Tags:
Brandon Hill
,
ChickenVille
,
Lamont Bishop Gallery
,
Washington D.C.