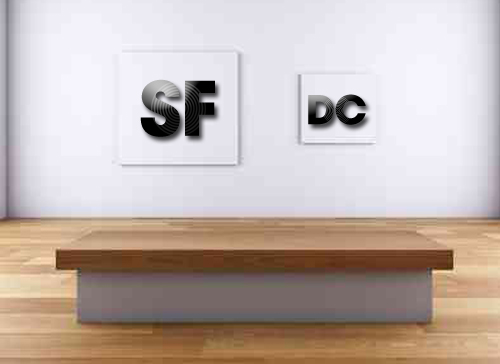 Most people would consider cities like San Francisco and Manhattan the artistic Meccas. Those who call these cities home revel in the artistic culture that they've had a hand in creating, while fledgling artists dream of moving there. One the other hand, cities like Washington D.C. have begun to build an independent art scene, but have a difficult time attracting emerging artists.
Philippa Hughes, creator and "Chief Creative Contrarian" of the district's Pink Line Project has been involved with the city's art scene since it started. "I moved here ten years ago when the art scene was very… dry," she told Meets Obsession. "It's only been in the last four or five years that it's started to take off." She notes that the district's small-town feel can be frustrating at times because the artists here are territorial over their space, but she's also quick to point out that the audience for art here in D.C. is huge. "There are a lot of smart, educated people here that want to be stimulated. With the Pink Line Project I'm trying to be the gateway to art, and people want that."
| | |
| --- | --- |
| | |
| | Jonathan Keats's Photosynthetic Restaurant Exhibit at the Crocker Art Museum in Sacramento California |
San Francisco-based artist, Jonathon Keats sees things slightly differently. "The art world has become too insular, too self-absorbed," he says. Keats recently opened a photosynthetic restaurant for plants at the Crocker Art Museum in Sacramento as well as the First Copernican Art Exposition at San Francisco's Modernism Gallery. As an artist, he questions whether or not there's such a thing as an established artist in the eyes of the general public. Keats worries about art stagnating in set environments. "I would prefer to be emerging, rather than established, and the moment that I find myself becoming established in any very minor capacity, I break off and try something I have no business doing."
In Keats' eyes, San Francisco suffers from an "inferiority complex" especially when compared to it's counterparts: New York, London or Mexico City. "Institutionally the city mistrusts its own people, preferring to import culture from elsewhere. This tends to make the museums a bit provincial. That said, many of the alternative art scenes are thriving, perhaps because the official arbiters of culture can't be bothered to interfere."
Interestingly enough, D.C. and San Francisco are similar in size, at least population-wise yet the two are worlds apart. "I've always fantasized about the Bay Area being a Mecca, and not just for art but for life in general," says Hughes. "But I've had several friends move there and admit to being disappointed with what they found."
Hughes started the Pink Line Project in 2007 when she was still a lawyer who was desperately searching for an art scene in DC. Inspired by the weekly writing salon she hosted, she started a blog, which quickly demanded more and more attention. Eventually, as she was being invited to put on after-hours museum events—she quit her day job and put all her efforts into the site. "It's like a little cheerleader for the arts," she says explaining the role of the project.
But does that make D.C. a better city for artists and writers just starting out? Local spoken word artist, Stine Bats, has mixed feelings about D.C's creative community. "I like the small, intimate aspects of D.C's scene," Bats clarifies. "But at the same time—the illusion we often get of 'seen it all, know everyone,' –probably makes feeling bored easier and faster to fall into than in larger urban centers."
"It's not easier for artists in D.C. to get off the ground," says Hughes. "It's an expensive city, and not yet considered art-y, but I think a lot of artists like the scene here because it's the big fish/small pond scenario. You can make a name here very quickly, and get recognized."
So where should artists go when starting out their career? Answers and feelings are mixed, but Keats added in a final tip for those just starting out. "Find contexts and spaces where art is absent, and make it happen."
Tags:
Jonathon Keats
,
Philippa Hughe
,
Stine Bats