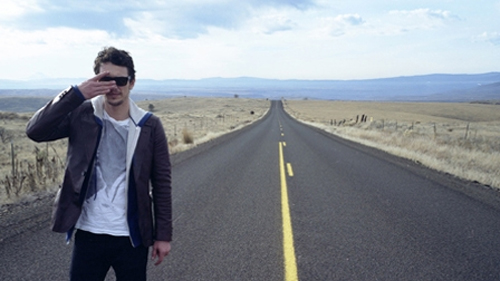 It's been a whole two days since we've written about James Franco and we're considering hosting a permanent James Franco page called All the Shit Franco is Doing.
On the page, we'd talk about all the shit busy-boy James Franco is doing, like the fact that James Franco is hosting the Oscars, playing the husband of a porn star, singing Cher, teaching a class about himself in which he will critique, producing music for fashion shows,  making out with himself in a mirror, interviewing fashion designers for Harper's Bazaar, joining twitter, dragging out in Candy Magazine,  making a GUCCI film, starring in a Wizard of Oz prequel, wearing blonde wigs at Sundance, making Three's Company inspired art installations, appearing in Soap Operas, and the latest, creating two films which will be part of an exhibit at the Gagosian Gallery in Beverly Hills.
The exhibit, entitled Unfinished, will feature two films that Franco made in collaboration with director Gus Van Sant which reworks Van Sant's 1991 flick My Own Private Idaho into a 12-hour film called Endless Idaho.
Here's what the Gagosian Gallery has to say about the exhibit:
"For Endless Idaho, Franco edited outtakes, deleted scenes, alternate takes, and behind-the-scenes footage from My Own Private Idaho into a 12-hour film.

Endless Idaho provides an unprecedented look into the workaday process of making a movie, from location scouting to repeated takes. Like many of the films of Andy Warhol, a major influence on Van Sant's own auteur style, it is a provocative, often riveting blend of documentary and fiction.

Interviews with actual hustlers who played secondary characters in My Own Private Idaho are intercut with shots of River Phoenix and Keanu Reeves improvising and refining their performances under the direction of Van Sant and his crew."
The exhibit will open Feb. 26 in Beverly Hills and will run through April 9.