Every other year, the international design community returns to Eastern Holland to celebrate fashion as it was meant to be celebrated.
The Netherland's Arnhem Mode Biennale is back in town for a whole month with yet another thrilling fashion exhibition. Arnhem Mode promises attendants an amazing experience and is a definite "to do" for fashion lovers.
In previous years, the Biennale has earned its fame as being a fusion between fashion, art and design, and has showcased such designers and artists as Prada, Rodarte, Maison Margiela, and Thom Browne.
It was so popular the first three times, that the Arnhem Mode Biennale has returned with its fourth installment called "Amber."  Through a series of interactive exhibits, fashion films and lectures, prepare yourself to take the incredible journey into the world of the exhibition's muse, Amber, from June 1 to July 3.
Who is Amber?
Fashion is multidimensional, fleeting and complex. And if fashion were a woman, she would be Amber. Simply put, she is the personification of fashion, and through her, we are allowed to understand what each layer of fashion means to us, both individually and as a society. The Biennale team insists that by venturing through Amber's world, we will eventually solve the riddle of the fashion phenomenon.
The exhibition will showcase over 50 international designers and artists, each with a space specifically devoted to being its own little miniature world of fashion, or their "habitat," if you will.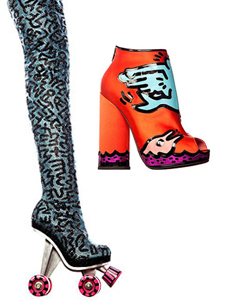 One of the fashion microcosms particularly worthy of note is by British shoe designer Nicholas Kirkwood.
Kirkwood, as a continuation of his work with the Keith Haring Foundation, has designed a collection of nine pairs of shoes which he says represents famous pop and graffiti artist Keith Haring's iconic Pop Shop. The artist's graffiti and famed brushstrokes cover the surface of his ankle booties and wacky platforms and another standout shoe is Kirkwood's  thigh-high roller skates embellished with real Swarovski crystals.
Another interesting exhibit at the Biennale is by Siki Im who, once upon a time, was an architect. As you can imagine, his architect background brings a very interesting twist to his pieces. Im's work of art is inspired by a deconstructed blazer and will also preview his Fall/Winter 2011 film that he produced with Travis Thatcher. Im explains, "My installations give people a new perspective of an everyday object. And I hope that I can offer people an experience that inspires them to question their relationship towards fashion and architecture."
Interested yet? This is your chance to see fashion in a way that you never have, and possibly never will. So, if you find yourself in the Eastern Holland, the Biennale will be hosted in several locations: the epicenter (the main area for the exhibition), various city centre locations, and the Museum of Modern Art. At each location, you will be presented with different areas of fashion created by various designers.
The Arnhem Mode Biennale will run from June 2, 2011 10  July 3, 2011 at Velperweg 76, 6824 Arnhem. For more information, click here.
---
Rhi Strayer is currently obsessed with Jeffrey Campbell shoes, sparkles, studs, and anything having to do with Lady Gaga.
All author posts