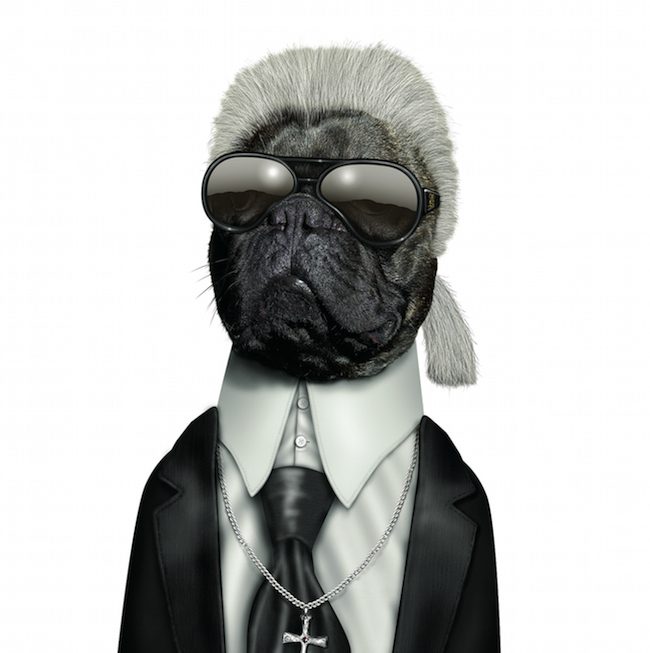 The title, 'Famous Faces', paired with the cover picture of a cat dressed as everyone's favorite old Hollywood actress pretty much sums up what this new kitschy book by Takkoda is all about.
Published in March 2011 by teNeues, and following a well-received line of greeting cards, the book is a series of 41 satirical photos featuring animals comically disguised as some of our favorite and most iconic human celebrities. The pug dressed as one of the most well-known faces in fashion and the cute kitty rockin' one pop princess's wig and red latex Edwardian dress, both look eerily similar to the real deal.
The whimsical minds behind all this wackiness are two English couples who share a deep love for animals.
Together, they have combined their adoration for household pets, interest in the cult of celebrity, and their playful sense of humor to create a book which personifies the animals as having strong personalities, rather than being made out to be nothing more than the usual cute objects we "ooh" and "aww" at.
By capturing the animals (which were unharmed during the making of the book!) in their natural poses, and then superimposing the outfits, hair, and accessories over them, Takkoda has transformed these pets into the instantly recognizable figures of our day.
Famous Faces retails for $29.95 and is available in multiple languages including English, German, French, Italian, and Spanish.
---
Rhi Strayer is currently obsessed with Jeffrey Campbell shoes, sparkles, studs, and anything having to do with Lady Gaga.
All author posts