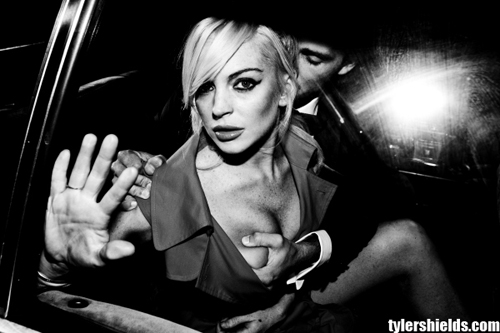 Getting your boobs fondled in a car, wielding a bloody knife, and frolicking around in a pretty dress in the streets of L.A. sounds like a pretty normal night out on the town for Miss Lindsay Lohan, right?
It's only been two weeks since Lohan's house arrest sentence was lifted, and in typical Lohan  fashion, she had to do something to stir up a commotion. So, naturally, she arranged for a photoshoot with the edgy photographer Tyler Shields.
In the montage of photos, Lohan dances with Spencer Falls in a luxurious gold gown in the middle of a street, before killing Shields herself with a blood-splattered knife. And while all the photos hold shock value, the one that has received the most attention is the soon-to-be infamous Lindsay Lohan boob grab.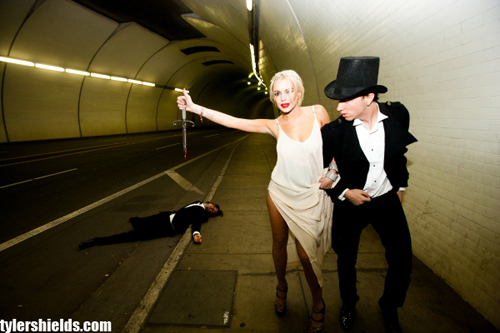 In the black and white picture, Lohan is seen up close staring wide-eyed out the window whilst letting her dude companion, Spencer Falls, fondle her pretty intensely.
Sheilds, who has an in-your-face, gritty aesthetic, is known for taking young starlets and photographing them doing outrageous things.
One must admit, even if you don't care for Lohan, she does look stunning.
To see more Lohan photos by Tyler Sheilds, click here.
---
Rhi Strayer is currently obsessed with Jeffrey Campbell shoes, sparkles, studs, and anything having to do with Lady Gaga.
All author posts