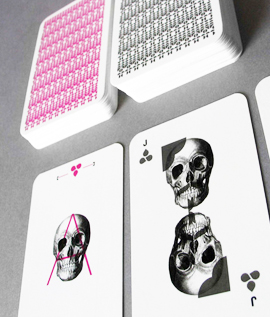 The classic playing card has just received and extreme makeover thanks to Italian designer, Mattia Castiglioni.
She's decided to, quite literally, strip them to their bones; assigning the traditional suites simple shapes and decorating the face of the cards with a creepy, yet somehow fashionable skull, thus the name barebones.
Although these funky cards are not yet on sale, you can direct any requests or inquiries to ask[at]barebonescards.com.
---

Saron is a writer and student born in Ethiopia and raised in Washington, DC. She is incapable of keeping a phone for longer than a few months, exclusively wears Miss. Dior Cherie, and her guilty pleasures include any novel written by V.C. Andrews (don't judge), Essie's "Little Brown Dress", and Stoli. She is currently obsessed with the poetry of Edmund Wilson and The Arctic Monkey's latest album "AM".
All author posts