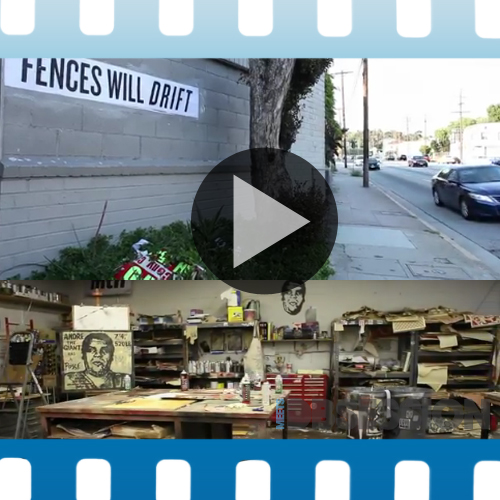 Death Cab's bassist Nick Harmer asked eminent illustrator and political activist, Shepard Fairey, a long time fan of the band, to produce the music video for "Home Is A Fire", a new track off their upcoming album Codes and Keys.
This latest song by the numinous group documents the link between spaces and the iconographic symbols that make up our relations to places. The result: a beautiful melding of song and street art. Shepard describes this combination on his website, "I love the democracy of music and I'm always excited to bundle visual art with great music. Nick sent me the lyrics to Home Is A Fire and they evoked the duality of "home" both as a place you inhabit, and also as a place that inhabits or traps you". The video also touched close to home, being an LA native myself, leaving me both missing and content on my distance from home.
This special Death Cab/Shepard partnership truly gives across this vibe as it takes you on a journey through the Los Angeles streets, winding you through vast palm trees, rolling ocean landscapes, suspended clouds, tattoo parlors, and broken windows.
It weaves you between colossal buildings that seem disintegrated at the mercy of new housing developments, and all the "stars", both literal and figurative in a city of fading lights. These images are coupled with lyrics plastered on graffiti-ed walls and fences.
And in true Shepard fashion, the music video isn't just a video documenting an esthetic portrayal of meaningless words.
For Shepard, "Home Is A Fire" evokes something powerful, something universal, and something sanctified, embodying the very notion of street art, and art in general.
The video was the product of the collaborative efforts of Shepard Fairy, Benjamin Gibbard, Nicholas Harmer, Jason McGerr, Christopher Walla, Aaron Stewart-Ahn, Tarin Anderson, Todd Mazer, Justin Mitchell and Christopher Hills-Wright.
Tags:
Aaron Stewart-Ahn
,
Benjamin Gibbard
,
Christopher Hills-Wright
,
Christopher Walla
,
Jason McGerr
,
Justin Micthell
,
Nicholas Harmer
,
Shepard Fairy
,
Tarin Anderson
,
Todd Mazer