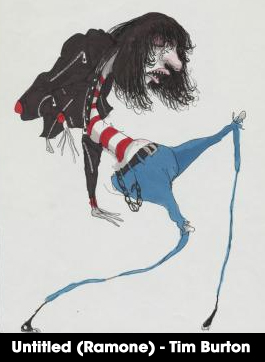 It's almost impossible to have missed the influence Tim Burton has had on film over the last twenty years, from his Disney beginnings with The Nightmare Before Christmas to his most recent flick Alice in Wonderland.
In recognizing Burton's significant contributions in film, art and culture,  the Los Angeles County Museum of Art is showing an exhibit of Tim Burton's work through (aptly) October 31st.
Burton's drawings, paintings, photographs, moving-image works, storyboards, puppets, concept artworks, maquettes, costumes are all displayed at Burton's dark and gothic retrospective exhibit.
Burton movie buffs will enjoy movie posters from his feature films and recognize the music composed by Danny Elfman, the musician who often scores Burton's movies.
Museum goers will also be treated to a sculpted shrub a la Edward Scissorhands and a sculpture of a little known Burton character Balloon Boy.
The museum is open 12-8 Monday, Tuesday, and Thursday, 12-9 Friday, and 11-8 Saturday and Sunday. It's located 5905 Wilshire Boulevard, Los Angeles, CA.