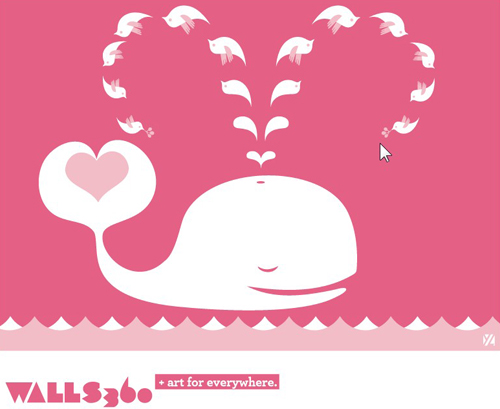 Artist Yiying Lu, the creator of the famous Twitter Fail Whale and co-founder of walls360.com, has released her latest whale creation…and it's ALL about the love.
The pinkishly pretty Love Whale is colored honeysuckle, Pantone's color of the year, and we totally think that it deserves a companion fan club to the Fail Whale Fan Club.
This weekend, MO had an opportunity to speak with the Australian artist and Shorty Award Winner Yiying Lu about her Love Whale.
Said Yiying:
I have been inspired by Pantone for years, and Pantone's 2011 Color of the Year is Honeysuckle.   So in celebration of Valentine's Day 2011, WALLS 360 is launching 'The Love Whale' wall graphics collection!

We are also launching many, many more honeysuckle wall graphics this year, featuring everything from our new Wall Garden and Wall Flower collections, to Interactive Wall Tangrams educational graphics for kids.   I absolutely LOVE this color, and it is perfect for the new wall graphics medium.
If you love the image as much as we do (and we really really do), you can purchase your own 5 foot version of the The Love Whale at walls360.com for $85.
Smaller versions start at a mere $15, making this a really awesome and affordable Valentine's Day gift item!  What better way to tell someone that you care than by giving them The Love Whale!
We can't wait to see what Yiying's next creation will be!