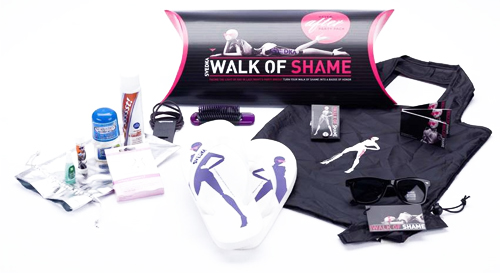 The walk of shame. We've all  been there.
You meet someone at a party, go back to their place, and the rest is history – if you're lucky. The next morning, as the sun wakes you up, you make your way back to your place and do the dreaded walk of shame.
But now you can put the shame behind you and strut out into the morning world wearing last night's party dress with pride.
SVEDKA Vodka and Ricky's NYC come together to create the "Walk of Shame Party Pack" for you after, after party-goers. The pack includes all the essentials you'd need to get ready the next morning including a pair of flip flops, lip balm, hair brush, folding sunglasses, deodorant, cleansing wipes, peppermint drops, and shampoo.
It even includes an exclusive cocktail recipes just in case you two wish to continue the party.
They've thought of everything!
So solve your post-hookup problems and go get your walk of shame kit at www.rickysnyc.com.