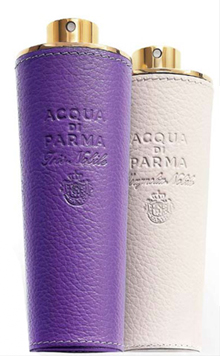 Warning: Per Saks.com, where you can snap up Acqua Di Parma's new mini purse sprays, "A customer may order no more than six units of this item every thirty days."
The reason? "High demand."
And I believe it.
True, they are only 0.68 oz. in size, and yes, the price is high at $145 a pop. But for elegance alone, fans of this classic Italian brand will not be disappointed.
The pint-sized sprays are luxuriously wrapped in soft Florentine leather and come in two gorgeous shades: a classic creamy white or purse popping violet. They are available in Acqua Di Parma's timeless Noble scents, Magnolia or Iris, both of which are perfect floral fragrances for summer.
And when it comes to convenience, these sweet-smelling beauties can't be beat. Each spray is designed with a sleek sliding pump to safeguard against spills. And refill cartridges are sold in sets of three, so you can carry around your luxe leather-clad canisters for many summers to come.
I know I will: I decided to splurge and do not regret the investment. Every time I give myself a quick spritz, I feel like a diva on my sun-soaked Sicilian patio. (Ok, fine, it's my Brooklyn Heights, hot-as-hell fire escape, but whatever, I'm instantly in Italy when doused in Iris Nobile.)
Super chic bonus: they fit perfectly (and look lovely) in my purse alongside my Gucci leather vintage flask (which I do carry occasionally to the beach, judge if you must).
Tags:
Acqua Di Parma
,
Iris Nobile Leather Purse Eau de Parfum Spray/
,
Saks.com