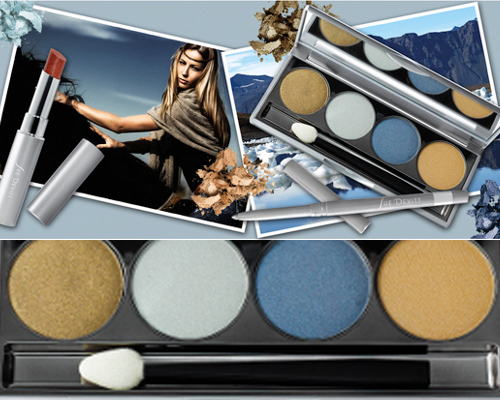 If you're not already aware, this place is a beauty writer's dream. It's spa central and I can't wait to soak in Blue Lagoon's geothermal, mineral–rich water, visit our hotel's swanky spa, buy a bunch of product to take home, and shop, shop, shop.
But until then, instead of packing (ugh, I am the worst procrastinator), I'm doing different prep: playing with Sue Devitt's Icelandic Fjord Illuminating Eye Shadow Quad and the rest of her Nordic Trek line.
Inspired by the iridescent country that I will soon be exploring, the shadow is super rich, the eyeliner is delicate yet defining, and the lipstick—it's just AWESOME.
It creates the perfect, sexy pout, and is made with orchid extract (sounds delish, no?).  I love, love, love it. As do my lips.
I can't wait to tell you all about my beauty adventures—check back soon to hear tales of in-water massages, amazing mud masks, city exploration, and… a glacier walk. (Pray for me on that one, please.  An outdoorsy girl, I'm not).
I'll be back with plenty of awesome info—and hopefully a chiller attitude.
Iceland—take me away!
---

Susan is a freelance writer, born and raised in NYC and currently based in Brooklyn. She's the senior beauty editor for Meets Obsession, and also writes for online publications such as Mamasarollingstone.com, TueNight.com.
and The Huffington Post. Susan had a serious candle hoarding issue that she has no plans to address. She's currently obsessed with Marc Jacobs' new beauty line, her black Zara moto jacket, and Aaron Paul.
All author posts