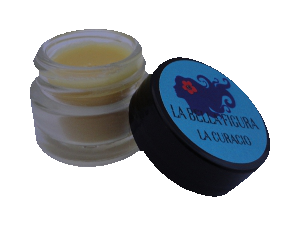 An awesome package arrived at my home office last week. It was a sampling of products from La Bella Figura—a Chicago-based, eco-luxury skincare line—and from the moment I opened it, I was obsessed.
I love everything that they sent me, but there is one product that has not left my pocket (or purse, depending on my outfit) since I tried it. And that's the amazing, super soothing La Curacio Lip Treatment.
This balm is unbelievable.
It softens my often-chapped lips instantly, and unlike so many other salves, it keeps them soft. I actually reapply more often than I need to because of the scent. It's delicate, but still so yummy—I wish there were an iSmell app because I just can't do it justice with a description.
Also, I should add that I had a terrible cold when I started using this miracle lip soother. So I applied to my nose. I figured, why not? One of the line's creators had told me it was good for healing kid's cuts and scrapes—and even relieved her own niece's eczema–so I figured it couldn't hurt.
It worked. And I didn't have to deal with days of dry skin around my nostrils once I was well.
The primary ingredient of La Bella Figura's chemical-free products is argan oil—an antioxidant rich, majorly moisturizing oil that comes from the kernels of a Mediterranean tree. I knew this stuff was beneficial for the face (I love Josie Maran's moisturizer), but I love how La Bella Figura has worked it in to all of their treatments—including ones for hair and lips.
I seriously suggest you check this line out—I'm now a fan for life. And if you're not sure what to try, check out their Perfect Traveler Kit. It offers petite sizes of three La Bella Fugura products—including the lip balm—for just $20.
---

Susan is a freelance writer, born and raised in NYC and currently based in Brooklyn. She's the senior beauty editor for Meets Obsession, and also writes for online publications such as Mamasarollingstone.com, TueNight.com.
and The Huffington Post. Susan had a serious candle hoarding issue that she has no plans to address. She's currently obsessed with Marc Jacobs' new beauty line, her black Zara moto jacket, and Aaron Paul.
All author posts