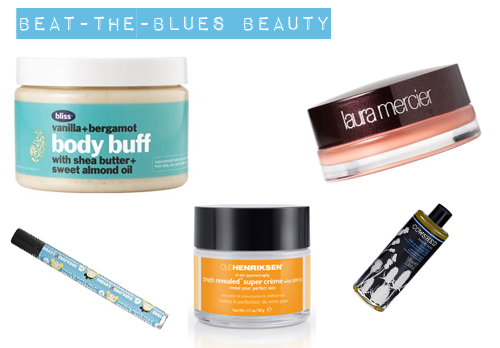 Clinical depression is no joke. I've struggled with it since college. Thankfully, I finally  found an antidepressant that works for me, and as long as I remember to take it—as well as I eat right and exercise (even though I'm terribly lazy)—I'm good. This doesn't mean that I don't get sad. It just means that I am able to get up each morning and face the day without wanting to curl into a fetal position under my desk.
It used to really annoy me when I saw products touted as "mood-boosters." Sure, a spritz of pheromone-infused eau de toilette might give the average person extra perk, but it's not going to spike my serotonin levels or pull me out of a medically diagnosed funk.
However, I've eased up a little over the years. I even bought a bottle of Clinique's Happy, hoping that the fragrance would squash my sadness. (It didn't, but I ended up with a lovely perfume that I still occasionally wear. And it must do something good because it's the brand's best-selling scent.)
Point is: none of these products claim to heal anyone who is sick, and I've found that there actually are some oils, scents and scrubs that DO lift my spirits when I'm down.
Even the basic ritual of putting my makeup on in the morning can help. I don't claim to love early wake-up calls, but once I get out of bed and start sipping my coffee, it's kind of fun to watch myself transform from a droopy-eyed mess to a well put together woman.
None of the following products are miracle workers, of course, but I tried them and they did put an extra spring in my step. There are a couple that I've even come to swear by—and they aren't even promoted as feel-good formulas.
So next time you're down in the dumps, give one of these a try. It can't hurt and, who knows, it just might help. If even just a little.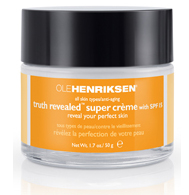 Ole Henriksen Truth Revealed Super Cream
It's now widely believed that diets rich in Omega 3—a fatty acid—can help ease depression. So maybe the same is true when you smooth it on your skin? That's what this cream claims. I'm not so sure the "Omega 3 Happiness Concentrate" can be backed up by any real science, but this lotion is lovely—it made my skin insanely smooth (I couldn't stop touching my cheeks) and that makes me feel good. Fifty-five dollars is steep for a moisturizer, but since I don't use it daily the jar lasts forever.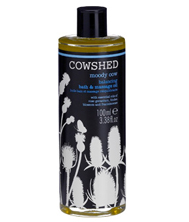 Cowshed Moody Cow Balancing Bath & Body Oil
I'm pretty sure that any well scented, skin softening body oil has the ability to brighten my day, but this UK-import did do the trick. The essential oils–rose geranium, linden blossom and frankincense—all promote harmony and relaxation, and the oil make my bathwater feel like butter (in a good way). Plus, the brand itself is silly and fun—just surfing the site made me smile. You can shop for products by "mood", for example (grumpy cow, horny cow, knackered cow, lazy cow, moody cow, and wild cow). Cute.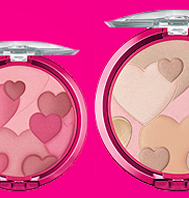 Physicians Formula Happy Booster Glow & Mood Boosting Bronzer
My life changed the day I discovered bronzer, and that's no exaggeration. I'm as pale as they come, and when I learned that a little bit of cleverly applied powder could give my face color, I was astounded. So with that said, any well made bronzer is going to make me feel good. But what about one that's actually infused with plant extracts that have been "proven" to promote happiness? Same effect. I like Physicians Formula and have used their other bronzers in the past, and this one is also good. It goes on smooth, the palette consists of a variety shades that can be blend nicely to create a natural look. And I have to admit, I like the packaging. Perhaps the hearts are a little hokey, but what can I say, I guess I'm a sucker for that kind of stuff.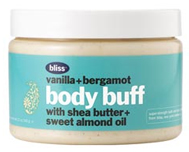 Bliss Vanilla + Bergamot Body Buff
I've raved about this scrub before. It's the best smelling beauty product on earth, in my opinion, and when applied vigorously, it really keeps your skin soft and smooth for days. Sometimes I just smell the jar when I need a quick pick-me-up. Even better, on mornings when I'm feeling especially sluggish, I treat myself to a total vanilla and bergamot shower experience, complete with the brand's scrub, soapy suds, and body butter.  It is, in a word, bliss.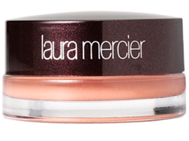 Laura Mercier Lip Stain in Shy Pink
There's a study that revealed that the color pink can have a calming effect on a person's psyche. If this is true, and you like the way the color looks on your lips, try adding some pink to your pout when you're feeling blue. I love Laura Mercier's Shy Pink Lip Stain because it's light, but still noticeable, and the pot lasts forever. 
An expensive splurge, for sure, but nothing cheers me up like the smell of this fresh and fruity candle. And it lasts—it burns slowly and is strong, so your $60 bucks go a long way.
I was so bummed when my favorite scent of Gwen Stefani's Harajuku Lover's line, G, became nearly impossible to find. Thankfully, Sephora now sells it in a limited edition, portable stick, which I always carry in my purse. I think it's the notes of fresh coconut and jasmine that I love so much. It's light, lovely, and always makes me feel happy.
All of these items have something very key in common—their goal is to make you feel sexy. And if this works, that alone will improve any sad gal's state of mind. Feeling good about yourself is the best mood booster there is, plain and simple.
So next time you feel you might be falling into a funk, treat yourself to a sweet-smelling shower. Or light your favorite candle while you're putting on a face. These small acts can do wonders. At least, they do for me.
---

Susan is a freelance writer, born and raised in NYC and currently based in Brooklyn. She's the senior beauty editor for Meets Obsession, and also writes for online publications such as Mamasarollingstone.com, TueNight.com.
and The Huffington Post. Susan had a serious candle hoarding issue that she has no plans to address. She's currently obsessed with Marc Jacobs' new beauty line, her black Zara moto jacket, and Aaron Paul.
All author posts