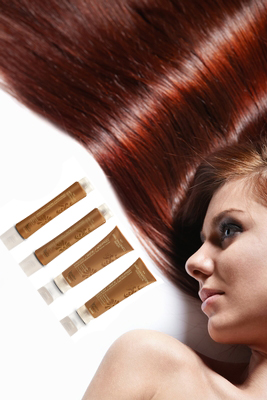 Last month, the FDA sent a stern warning to the Brazilian Blowout company: get rid of the formaldehyde in your hair smoothing system, or else.
For months the company has maintained that their product is safe and that all chemicals are well within industry standards. Including formaldehyde, which the Cosmetics Ingredient Review Expert panel says cannot exceed 0.2%.
But the FDA didn't buy it and conducted its own test. They found that the product contains 8.7 to 10.4% levels of the killer carcinogen. Brazilian Blowout had until September 12th to either fix their formula or recall the product from salons. As of my writing of this article, neither has occurred.
So in all likelihood, the treatment will be banned. (It's already a no-go in Canada.)
However, if you, like me, have super frizzy hair and are intrigued by professional, long-term taming, don't despair. There are safe options out there, including the one I got back in May—and LOVED.
"My client's health—as well as my own—always comes first no matter what treatment I'm giving," says Carolina LiVigni, of Hair by Carolina. "I've had people come in and request the Brazilian Blowout and I turned them down. I won't do it just for the money."
So Carolina, having had many requests for a Brazilian Blowout-type treatment, knew she needed to find an alternative. And after carefully researching safe, formaldehyde-free systems, she found what she was looking for in KeraGreen.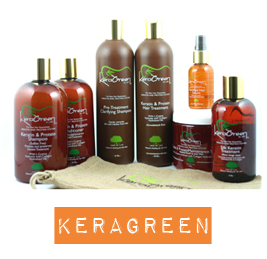 "What I do is called a Keratin Smoothing Treatment," says Carolina, who currently works as an independent stylist at New York City's Enve Beauty Lounge. "It doesn't straighten hair, but rather smoothes it out, de-frizzes, and adds proteins and minerals to strengthen your strands."
Bonus: it cuts blow drying time in half, which I can personally attest to. I had this done back in May, and my one-hour drying time went down to 20 minutes. (I swear, and I WOULD NOT lie to you guys. I was truly amazed.)
Carolina says the treatment typically lasts 3-4 months, which totally jibes with my experience—I got it done in early May, and by late August I noticed that my normally coarse hair was once again taking longer to tame.
And what about at-home hair smoothing options, which are tempting considering the treatment's $400 in-salon price tag?
Organix sells a Brazilian Keratin Therapy that lasts for 30 days, is formaldehyde-free, and costs less than $15.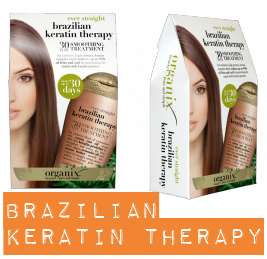 "I suppose that those might work in theory," Carolina admits, "but the real issue is application. Even if a friend is doing it for you, if he or she is not a professional, chances are you will miss spots, make mistakes, perhaps apply too much formula to one spot and not enough to another."
And that means uneven results, potential changes in hair color, unexpected damage and drying….the list goes on.
So in the end, what does it come down to?
If you are willing to take the chance, try an at-home kit (just make sure it's formaldehyde-free). But if, like me, you can more or less predict when you will need your tresses tamed (during times of high humidity, for example, or when embarking on an awesome Caribbean vacation), I think it's well worth going to the salon and making the investment.
In the end, you'll save precious time, as well as the money you would have spent on smoothing products for your blow outs.
And for frizzy-haired females like me, I have to say—there's nothing like waking up to strong, sturdy, easy-to-live with locks. In an instant.
Tags:
Brazilian blowout