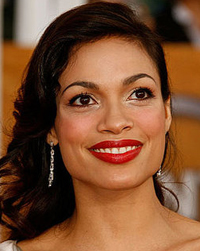 A good red-lip look is truly priceless. It's classy, clean, and seemingly simple.
But making it work (and last all night long) is no easy feat. Follow these steps for a cool crimson pout that will make you look like a movie star—and won't end up on your teeth.
The Beauty Breakdown:

Wearing a red lip is a definite statement, so before you do anything, consider the occasion.
Are you going to a swanky, late-night, dimly lit party? Be bold.
Will you arrive to an early evening cocktail hour outdoors? Tone it down a touch.
Also, what will you be wearing? Try to keep your outfit cool (no crazy patterns or super loud colors) so it doesn't compete with your face. Yellow, green, black, and white are all good choices. Rosario Dawson got it right with her emerald green gown.
Bottom line: make sure the occasion, and the outfit, fits your bold-lip look, and that you'll feel comfortable, not self-conscious.
Next rule: in order to keep from looking clownish or over-the-top, you need to keep the rest of your makeup to a minimum.
Moisturize, apply foundation, and set with powder.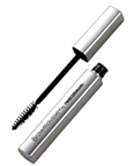 Groom your brows and set them (I love Tweezerman's Browmousse), but don't use pencil. I also suggest going without eyeliner, but if you swear by the stuff, create just a slim line along your upper lash. Tarte's EmphasEyes is great for this.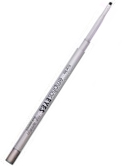 Curl your lashes, add two light coats of mascara in brownish black, and that's it. Time to focus on the centerpiece.
If your lips are often chapped, it might be a good idea to exfoliate them first. You want your smackers to be as soft and smooth as possible. Fresh's Brown Sugar Lip Polish is fantastic.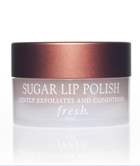 Next, add a light layer of your favorite colorless balm (mine is by Burt's Bees), then wait a sec and let that set. You want your lips to be soft but not so moist that they can't retain color.
If you want to go the extra mile, add a layer of lip primer. I do, just because I'm always afraid that my mighty red might wander once I'm out.
Definition is key when it comes to perfecting this look and you really can't achieve a foolproof red with lipstick alone. You'll also need a cream lip liner, such as L'Oréal's Colour Riche in Always Red, and a thin lip brush. I love all of Sephora's tools, but use what you like best. You're the artiste, after all.
Outline your lips with your liner, making sure to draw big, bold lines. The point here is to create boundaries for your color so it stays put, so don't be shy when you apply. And because the liner is cream, it will blend easily with your lipstick and you won't have to worry about feathering. So be fearless.
Next, cover lips with a matte tint, making sure to stay within the carefully penned lip lines you created. Once that's set, it's time for the pièce de résistance.
I have two great lipsticks to recommend. If you're willing to go high end (and wait for a delivery or make a trip to Barneys), there is no better crimson color than Lipstick Queen's Red Sinner. Seriously, this stuff is really red and stays on FOREVER. I also adore Maybelline's Color Sensational Lipcolor in Red Revival, which you can get at the drugstore. Either one will totally do the trick.

Using a brush (because it gives you much more precision) cover your lips with your color, making sure to layer the entire area inside your lines. Blot with a cotton round, then apply another coat to bring back your shine. If the lipstick you've chosen is matte, add some gloss to the center of your lips, then press them together to blend. Or if you prefer to keep the look lusterless, skip the gloss. It's just as hot (see Christina Aguilera.)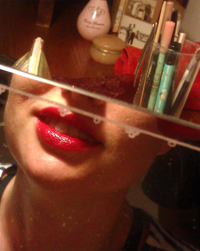 And there you have it—one sexy, seductive, drop-dead-red pout. Make sure to take your lipstick along with you. Hopefully you won't have to reapply, but eating and drinking can wear down the dazzle (no matter what the lipstick companies say!) so you're safer taking it with you.
And don't forget to pucker up for all those awesome photo ops!
---

Susan is a freelance writer, born and raised in NYC and currently based in Brooklyn. She's the senior beauty editor for Meets Obsession, and also writes for online publications such as Mamasarollingstone.com, TueNight.com.
and The Huffington Post. Susan had a serious candle hoarding issue that she has no plans to address. She's currently obsessed with Marc Jacobs' new beauty line, her black Zara moto jacket, and Aaron Paul.
All author posts