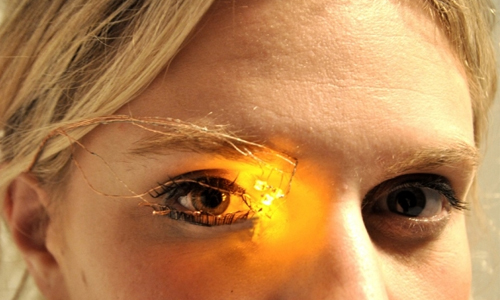 In this ever-changing world of bigger, better, faster, and more high tech, I'm rarely surprised at the constant innovation I see day in and day out.
That was, until today.
Fashion has officially collided with technology in the most peculiar way with the development of LED eye shadows.
Designer Lulin Ding has created an interesting "digital eye shadow" by attaching LED's of varying brightness to false eye lashes. Every time the "wearer" closes her eyes the little lights "paint" the lid in its designated color.
At first glance, this contraption is anything but subtle. The tangles of wires and blatant LED's give a certain "Bicentennial Man" effect. Eye shadow, just like any other form of makeup, is for fashion, aesthetics, that sort of thing; so far Ding's designs don't seem to fit the bill.
Although the concept is very interesting, at this stage in its development,  Ding's "digital eye shadow" is far from wearable, but hopefully it will continue to be fine tuned so that it can make a successful debut in the beauty world, and maybe even your own home.
vimeo
please specify correct url