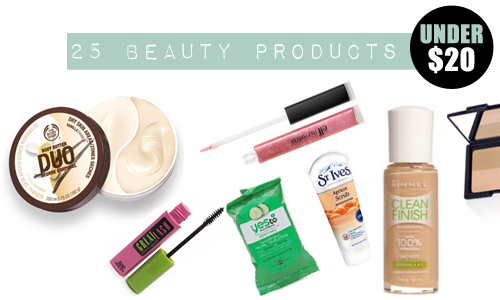 I'll admit, I spend way too much money on beauty products.
But recently, due to real life such-and-such, I've been forced to examine my budget in a careful, adult way. And while I'll never say you shouldn't splurge on that special product (it can make to you smile, I swear!), I also know I have to be realistic.
Especially these days, when the debt ceiling is squished against my face each morning when I rise.
So the following are some less expensive products that I swear by. I've used them all and love them. I won't lie—if I can buy the $30 dollar product over the $3, that's what I'll do. But that doesn't necessarily mean they are better. It's just that, like I said, I'm a splurger. Which, my dear readers, is a whole other article onto itself. To be continued.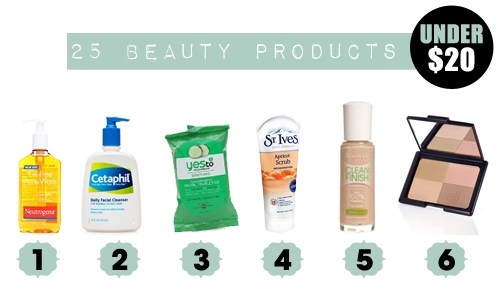 Face
1. Neutrogena Oil-Free Acne Wash, $8
If, like me, your skin is acne prone, this cleanser is the best. I've used it since high school and it continues to keep me in the clear.
 2. Cetaphil Daily Facial Cleanser, $10
Old school and as awesome as ever.
 3. Yes to Cucumbers Soothing Hypoallergenic Facial Towelettes, $3
In my humble opinion, the entire Yes To brand is genius. These towelettes totally remove your makeup—and make your face feel good in the process.
4. St. Ives Invigorating Apricot Scrub, $4
I LOVE this stuff. It leaves my face so soft and smooth, I can't stop touching my cheeks (weird, I know). As far a facial scrubs go, I believe this is the best you-can-buy-it-at-the-drugstore brand around.
5. Rimmel London Clean Finish Foundation, $5
Clean finish is right. I like this foundation because it's really light, yet covers well. Just make sure to moisturize your face fully before you apply—I've found that it goes on a bit cakey if your skin isn't properly prepped.
6. E.L.F. Studio Bronzers, $3
OK, I'll be real—when I discovered bronzer (and realized I didn't have to look like Snow White for my entire life) I was beyond thrilled. So I will spend the extra cash when it comes to sunning myself via powder. But that's just me—you don't have to. E.L.F. makes an awesome, totally blendable, totally natural bronzer, and it only costs $3. I use it as my backup—but really, I should just use it always. It gives great glow.
Eyes
1. Physicians Formula Brow Definer Automatic Brow Pencil, $6
This two-in-one brow pencil can't be beat. It defines, shapes, and adds just the right amount of color (I use the Blonde-Beige shade).
 2. L'Oréal De-Crease Eye Shadow Base, $7
I'm a big fan of eyeshadow primer, which can be pricey. But this version does the job well—it keeps color fresh and prevents awful, cakey crease-mess.
 3. Revlon Color Stay 12 Hour Eye Shadow, $7
I haven't tested it out for a full 12 hours, but it stayed put all for a good five during a recent wedding I attended. And the Sultry Smoke shade is great for creating a killer cat eye.
 4. NYC Eyeliner Duet Pencil, $2
For two bucks, this pencil is a super steal. I'm a fan because it's totally smudgable—in a good way. Perfect for creating a sweet, smoky eye.
5.  Black Radiance Continuous Crème Eyeliner, $5
I'm a big fan of cream liner—Urban Decay's Ink for Eyes is my go to. But when times are tight, this option is just as good—and a third of the price.
 6. Wet n Wild H2O Proof Liquid Eyeliner, $4
By now, you can probably tell that I like to have a lot of options when it comes to liner. Cream works best for me, but if you're a liquid lover, try this one. It's shockingly easy to apply, and it stays put.
 7.  Maybelline Great Lash Waterproof Mascara, $5
A total no-brainer. The best drugstore mascara around.
 8. Maybelline Expert Eyes Eye Make-Up Remover, $4.50
Not greasy and removes heavy-duty liner with just a couple of swipes.  Always in my arsenal.
Lips
1. Burt's Bees Classic Beeswax Lip Balm, $3
The original Burt's Bees balm can't be beat.
 2.  E.L.F. Studio Pout Perfecter in Glow, $3
If you want good makeup for less, E.L.F. (which stands for Eyes, Lips, Face) is a great go-to. Seriously, I have no idea how they create such solid products with such crazy low prices (wow, I sound like spokesperson. I'm not, I swear.) Anyway, all of their glosses are awesome, but Pout Perfecter is my new fave.
 3. L'Oréal Color Riche Lipstick in Real Red, $7.50
You don't need to spend a fortune to create the perfect, blood-red pout. This lipstick delivers—and its anti-aging formula keeps your precious pout moisturized, as well.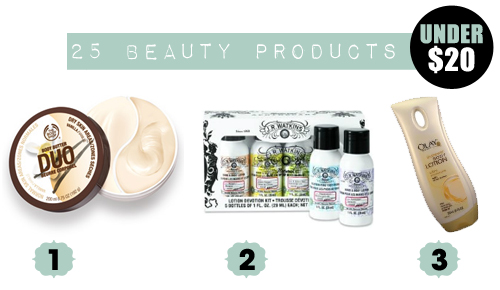 Body
1. Body Shop Body Butter Duo, $18
This two-in-one pot is awesome. I'm in love with the vanilla duo, but they have plenty of scents to choose from. The idea is ingenious—you get a light lotion for regular moisture, as well as a heavy duty hydrator for those super rough spots.
 2. Watkins Inc. Lotion Devotion Kit, $10
Super cute kit, lovely lotions, pretty bottles. Need I say more?
 3. Olay In-Shower Body Lotion, $5
Such an easy, inexpensive way to moisturize. I've always been a fan of in-shower moisturizers, and I've found Olay's to be the best. Seriously silky skin, and I don't have to do anything post-bathing. Perfect for the lazy, which is just how I like it.
Hair
1. L'Oreal Everpure Smooth Shampoo & Conditioner , $7 each
I spend good money to highlight my hair  (I love you, Carolina!). So, in turn, I don't mind spending good money to keep the color true. Because sulfate-free is where it's at—those evil ions will ruin your color quick. But I recently learned that these formulas don't have to cost you a fortune. I now swear by L'Oréal's Everpure Smooth Shampoo and conditioner.
2. Garnier Fructis Sleek & Shine Anti-Frizz Serum, $5
Tames my tresses, smells delicious, and only costs five bucks. Oh, and the bottle lasts forever. Talk about true value. Serious respect for Fructis.
 3. John Frieda Frizz Ease Moisture Barrier Firm Hold Hair Spray, $6
I try to use as little hairspray as possible, but when that humidity hits, John Frieda's my man. This spray is great because it's light—I can hardly feel it in my hair—and it really does keep my strands straight.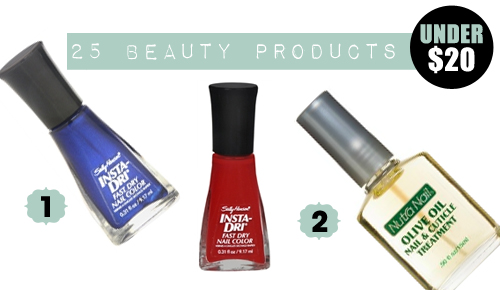 Nails
1. Sally Hansen Insta-Dri Fast Dry Nail Color, $5
Love this. Plus, the bottle doesn't go bad right away—contrary to many drugstore-bought polishes. And it really does dry fast—the perfect, on-the-go, no fuss polish.
2. Nutra Nail Olive Oil Nail & Cuticle Treatment, $6
This stuff is great for an at-home manicure. And if your nails are naturally brittle, it will toughen them up quick.
And one over-$20 extra, but a BIG Beauty saver: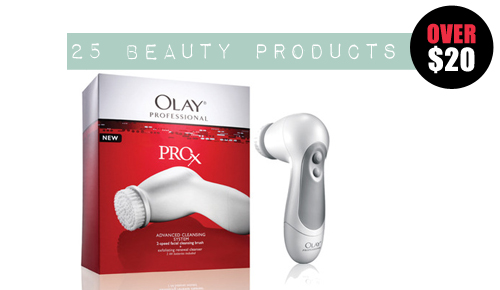 Olay Professional Pro-X Advanced Cleaning System, $26
Clarisonic is awesome, but it can cost up to $300. So I was thrilled when Olay sent this alternative my way. And it works. Well. If you're into the electronic facial scrub stuff, try this. It's killer- and it costs less than $30!
---

Susan is a freelance writer, born and raised in NYC and currently based in Brooklyn. She's the senior beauty editor for Meets Obsession, and also writes for online publications such as Mamasarollingstone.com, TueNight.com.
and The Huffington Post. Susan had a serious candle hoarding issue that she has no plans to address. She's currently obsessed with Marc Jacobs' new beauty line, her black Zara moto jacket, and Aaron Paul.
All author posts