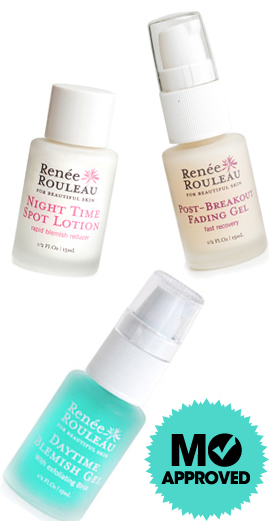 In some countries, pimples are actually considered marks of beauty, charm, and grace.
Just kidding. That was my husband's (attempt at a) joke this AM, when he heard me moaning about the very big blemish I spotted smack dab in the middle of my forehead.
Honestly, I've never had good skin. Adolescence really did a number on my face and it took years (I was well into my mid 20s) before I was able to really get it under control.
And I have Proactiv to thank for that. Which I bought, mind you, before it was cool.
There were no Katy Perrys or Julianne Houghs touting the line. You called a number at 2am, made sure no one in the lobby was looking when you picked up your package, and hid all the products at the bottom of your bathroom drawer.
Thankfully, that's no longer the case, and when I use the system regularly (because that's the key),  Proactiv keeps my once seriously problematic skin in check.
However, sometimes I do slack, and I always pay the price. You know, those mornings when you wake up to something that looks just like that spider zit from The Believers on your face (that movie messed me up good, BTW).
Like this morning. And of course, it's Friday, and of course, I have a wedding to go to Sunday night. Le sigh.
But I'm not freaking out. And that's thanks to Renée Rouleau and her awesome skincare line that I just discovered. Now that I know about her, I'm armed with exactly what I need to banish a big blemish in less than 48 hours.
I have three favorites. First, I use the Daytime Blemish Gel right after washing my face. It can be worn under makeup, all day, which means you get a head start on drying out that zit. It also forms an invisible seal over the pimple to prevent dirt and debris from infecting it any further.
Next up, I use the Night Time Spot Lotion. I knew this stuff was good when I first tried it because it stung. Not terribly, but I felt just enough of a tingle to know that something good was going on. It dries quickly and stays put all night, unlike other overnight spot treatments, which often manage to rub off as I sleep.
Using this lotion for two nights in a row, in addition to a couple of dabs while I'm doing various chores around the house (i.e. when no one is home and I'm cool walking around with white spots spackled on my face) almost completely diminished two pretty big breakouts I had a few weeks ago. So I'm sure it can do the same for me this weekend.
Then lastly, for good measure, I'll regularly apply the Post-Breakout Fading Gel after the pimple has healed. Because there's always some sort of not-so-nice trace left behind, especially if you're dealing with a monster-sized mother*&ker.
Of course, cover up works wonders (I rely on Benefit's Erase Paste), but it doesn't treat the problem. This stuff helps stimulate new skin growth while removing the scarred cells that the said zit has damaged. It also contains calming anti-inflammatories and mild exfoliating acids to fade dark marks. Forever.
So on behalf of all adult acne-prone people out there, I thank you Renée Rouleau!
And I know that my skin will be glowing gorgeously against the city lights at the Water's Edge on Sunday.
Tags:
Renée Rouleau
,
skincare