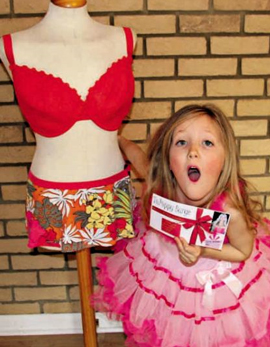 Teaching a baby to pole dance is one thing, but giving a baby boobs (and I don't mean in a PC breastfeeding is cool kind of way)…well, maybe that's questionable.
Meet Sarah Burge a.k.a. "The Human Barbie".
The addicted to plastic mom recently made headlines by giving her seven-year-old daughter Poppy a "£6,000 breast enlargement" voucher to use when she turns 16.
Think of it as a Double D-sized trust fund.
And what little girl doesn't dream of the day she can get artificial breasts?
These are important lessons in life for a kid, people. You know, don't talk to strangers…share your toys… the bigger the better the boob…
Clearly my parents failed me in so many ways.
See exhibit A: my chest.