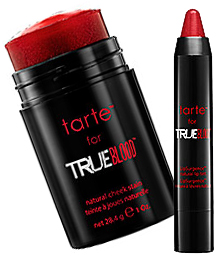 I don't mean to brag (actually yes, I totally do), but I was the life of the True Blood premiere party I attended last night.
And I owe it all to Tarte.
The beauty brand launched a limited edition line inspired by the show, and I vamped it up in full for the Fangtasia-esque festivities.
I must say, I had a bloody great time playing vixen.
The collection was created in collaboration Brigette Myre-Ellis, the show's lead makeup artist. And you can tell.
The lip tint gives your smackers that sweet, just-bitten bite, the cheek stain is coolest shade of crimson, and the eye shadow shades are perfect for creating an awesome after-dark eye.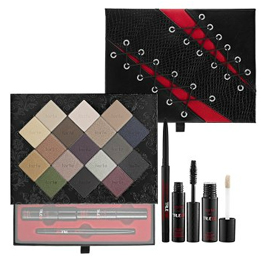 The palette is particularly cool because in addition to its 17 shades, it has a pullout compartment that's packed with an EmphasEYES eyeliner and a Lights, Camera, Lashes! mascara (two of my all-time favorite Tarte products). There's also an eye primer wedged in there, as well.
So if you're a beauty-loving Truebie, I strongly suggest you pick up one (or all) of these pieces in celebration of season four. I know that I felt extra fierce last night.
Dare I say Pam would've been proud?
---

Susan is a freelance writer, born and raised in NYC and currently based in Brooklyn. She's the senior beauty editor for Meets Obsession, and also writes for online publications such as Mamasarollingstone.com, TueNight.com.
and The Huffington Post. Susan had a serious candle hoarding issue that she has no plans to address. She's currently obsessed with Marc Jacobs' new beauty line, her black Zara moto jacket, and Aaron Paul.
All author posts