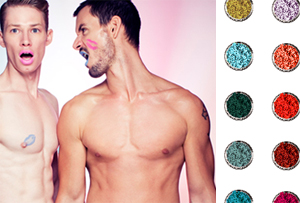 I may have to adjust my meds.
Obsessive Compulsive Cosmetics, a totally cool, 100% vegan and cruelty free makeup company, has finally opened its first flagship in NYC.
Naturally, we at Meets Obsession are—duh—obsessed.
Nestled between East Houston and Stanton Street, the lower east side shop—with its exposed brick walls and sleek wood floors—is hip and trendy, yet totally unpretentious. Playing with their highly pigmented products is encouraged—and insanely fun (you can custom-make your own colors at the Mixing Bar.) The super nice staff is ready to assist with makeovers, product advice, opinions—and again, they do it all without one bit of pretense.
The minute you walk into the boutique, it's clear that OCC is all about color. Their Lip Tars, Loose Color Concentrates, and Nail Lacquers line the walls in shades that range from stunning bright blue to eye popping purple.
Some sweet new colors have recently been added to the line, such as the gorgeous gold Cruising eye shadow, as well as Femme, a fun "icy flamingo pink shimmer" of a nail polish.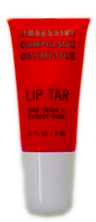 And the Lip Tars—I've long been in love with them.
They go on like a gloss but set like a stain, and a little goes a long way. Seriously, these tubes are terrific. Narcissus is my new favorite shade, but I'll always adore Demure, which once lasted me well over a year. Now that's money well spent.
More to come on OCC's amazing airbrush makeup, as well their lovely line of brushes, which feel way too soft to be synthetic (but are).
Stay tuned!
---

Susan is a freelance writer, born and raised in NYC and currently based in Brooklyn. She's the senior beauty editor for Meets Obsession, and also writes for online publications such as Mamasarollingstone.com, TueNight.com.
and The Huffington Post. Susan had a serious candle hoarding issue that she has no plans to address. She's currently obsessed with Marc Jacobs' new beauty line, her black Zara moto jacket, and Aaron Paul.
All author posts