The wicked winter climate is swiftly settling in, and for most people that means dry, dull, flaky and finicky skin. The cold air outside, coupled with dehydrating heat inside, wreak havoc on delicate derma—especially the face.
Which is why finding the right moisturizer to get you through the next few months is key. The following is a list of seven that I love (and one amazing oil that I'm obsessed with). While their price points all vary, the results do not. All of these are excellent options for maintaining moist, supple, and healthy skin this winter.

Olay Complete Defense Daily UV Moisturizer For Sensitive Skin
This cream includes ingredients such as vitamin e, vitamin b, aloe, and green tea extract—all of which work overtime to stimulate your skin's circulation and help prevent water loss.
It's light, but still effective, and with an SPF of 30, it also shields your skin from the sun (which can be just damaging during the winter).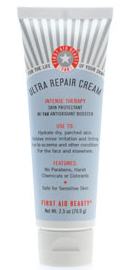 First Aid Beauty Ultra Repair Cream
A most excellent emollient that is formulated to hydrate the scaliest of skin, as well as soothe icky conditions such as eczema.
It can be used on the body, but I love it as a winter-thawing face cream. It rids me of the redness that often occurs due to cold winds, and is rich yet absorbent enough to soak in swiftly.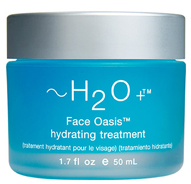 H2O Plus Face Oasis Hydrating Treatment
This gel contains fantastic from-the-sea ingredients, as well as phospholipids and antioxidant-rich multivitamins that keep your skin supple and soft.
I love it because it can also be used as a mask when you're in need of extra moisture.
Another plus? The oil-free formula is great for super shiny and/or acne-prone people.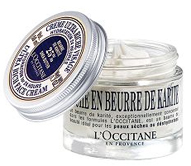 L'Occitane Shea Butter Ultra Rich Face Cream
Made for shea butter lovers, this face lotion is rich, yet immediately absorbent. And the addition of wheat and chestnut extract ups the mega-moisture ante . Another bonus? While made for face, in a pinch, this can also be used for body—something I learned during my chilly trip to Iceland, when I realized I forgot my to pack my usual crème des corps.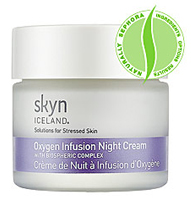 Skyn Iceland Oxygen Infusion Night Cream
So you probably know by now that I'm obsessed with Iceland. And their products. Skyn's night cream is no exception. Plus, it's available in the States! Which is rare for so many of Iceland's best beauty brands. I put this cream on at night and my skin is exceptionally smooth the next day. And it creates a subtle warming sensation as you work it into your skin, which is an amazing, spa-like treat on cold winter nights.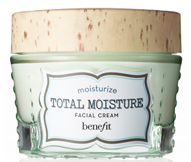 Benefit Total Moisture Facial Cream
I adore Benefit, and when this moisturizer came across my desk, I was instantly in love. As with all Benefit booty, the packaging is perfect. I LOVE the trompe l'eau cork-painted top which makes the jar look like an old school elixir from a 1950's pharmacy. However, its hydra-concentrated formula is anything but old, and the soothing effects last all day long.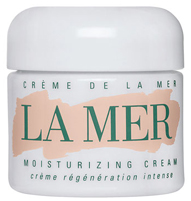 La Mer Moisturizing Cream
La Mer is amazing—there's no denying this fact—but the price tag IS hefty. In the end, it's all about identifying your skin's needs, as well as the state of your bank account. There are plenty of less expensive products that can give you similar results, but I do know of people who, in the winter, swear only by this stuff. If you have seriously distressed winter skin—and the extra cash—I'd definitely suggest giving the luxurious La Mer a try.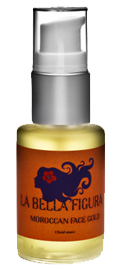 La Bella Figura Moroccan Face Gold
I'm newly in love with argan oil, so I have to admit I have not yet tried this treatment during the winter. But I don't doubt that La Bella Figura's concoction works wonders during the winter, especially as a preventive measure. "You should see me when I'm out skiing or sledding," says LBF CEO and Co-Founder Victoria Fantauzzi. "I look like a slick seal pup, but damn if my eyes don't look awake and smooth after the fact." I'm solid gold sold.