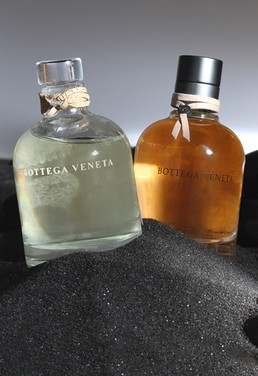 Picture it: Milan, June 21, 2011.
A group of glitzy glamourati gather at the Palazzo Trivulzio, a private 18th century palace.
The occasion?
A very special unveiling of the first fragrance by Bottega Veneta—the luxe Italian handbag  label that is known for crafting some of the world's most beautiful luxury bags—a collection of  bags that are so beautiful, that I could cry every time I see one.
Why?
Because they are beyond gorgeous. And also because I can't afford them.
The scent, which is described by the brand as "leathery, floral chypre," will be available for purchase in the US this September. But if you're dying to try it ASAP, you can hop across the pond to Harrods, which will start selling the fragrance this Sunday.
And true to BV form, there will also be a limited edition bottle for sale–made of marvelous Murano glass and available for purchase exclusively in Bottega Veneta boutiques. It will also retail for a whopping $365 for 3 oz, (versus a slightly more reasonable $95 for 1.7oz of the mainstream eau de parfum).
I know I'm excited.
But as with the brand's bags, the hefty price tag does give me pause.
What do you all think? Is $365—or even $95, for that matter—an okay price to pay to pamper oneself in Italian elegance?
Tags:
Bottega Veneta