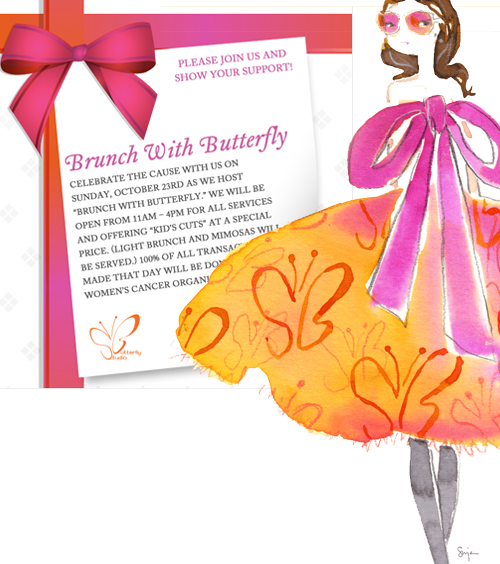 Yay for October! It's time to break out my new fall boots, plan my kick ass Halloween costume, and help support Breast Cancer Awareness.
The beauty industry has always been awesome about championing for the cause—there tons of ways to contribute to the fight, and many are as simple making a purchase.
This year, I am even more fired up than ever, because my mom was diagnosed with stage 1 breast cancer back in June. Luckily, she's fine—it was caught early and the tumor was removed with a lumpectomy. (Ladies, get your mammograms and feel your boobies on the regs—early detection saved my mother's life.) But the surgery—and radiation after the fact—was still tough. To be honest, it was downright sh*tty.
So I'm more determined than ever to see this deadly disease squashed. In addition to shopping for beautifying, BCA-supportive product (what a great excuse to splurge!), I'm also excited to share this awesome event in NYC.
On Sunday, October 23rd, Butterfly Studio Salon will host Brunch With Butterfly.
The salon will open its doors from 11am-4pm and will be donating 100% of their sales to SHARE, a cancer organization for women.
What a perfect, guilt-free way to pamper yourself!
Light brunch and mimosas will be served, and if you have children, there will be kids' cuts available at special prices.
So if you're going to be in NYC on Sunday, I suggest you book an appointment at Butterfly.
You'll be doing more than making a stylish investment in your fall look—you'll be making a move that will help save lives.
Tags:
Breast Cancer
,
Brunch With Butterfly
,
Butterfly Studio Salon