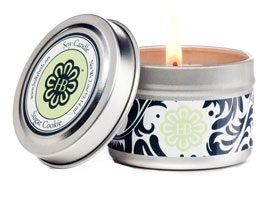 I love candles, but I have to admit I've never been a huge fan of food-scented ones. Until now.
HollyBeth's Natural Luxury—a really terrific, all-natural line of face, body, hair, and home products—sells this amazing Sugar Cookie Candle that I just can't get enough of.
The scent is not overly sweet or food-ish (i.e. it doesn't make me drool), but still very present (and pepperminty!). It's perfect, in my opinion, and I'm very picky when it comes to candles.
Which got me thinking. In the past month I've fallen hard for two organic beauty lines. La Bella Figura, which I boasted about a few weeks back, and now Holly Beth's Natural Luxury.
I have to be honest—prior to discovering these two brands, I typically shied away from eco-conscious lines. Don't get me wrong, in theory I'm all for them, but I just never found ones that actually WORKED. The ones, at least, that were really, truly organic (more on this in a sec).
But LBA's balm and HollyBeth's cookie candle are changing my mind. As well as this grits and honey scrub, this eye repair serum, this body wash—I could go on and on.
My point is that these products work—and work well—even though each and every ingredient comes only from the earth.
And in an industry where there are few restrictions on how a company can describe its product, and as a result the words "natural" and "eco" become plastered on products regardless of what's really in them, this is really important.
Read the ingredients, my dear readers, because you can't always believe those bottles.
"When I first decided that we would be a USDA organic certified company," HollyBeth explains, "I did not realize how much incorrect labeling and false information was out there. I saw products claiming to be 'organic' that were no more organic than my sweet 15-year-old dog ChiChi."
"Plus, the word 'natural' is a misnomer," she adds. "Too many 'natural' products are chock full of chemicals, additives and ingredients that I can't even decipher."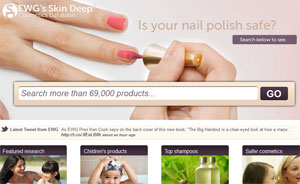 If you're confused about what's really in your favorite shampoo, skin cream, or body butter (and who wouldn't be?) HollyBeth suggests checking out the Skin So Deep database. You can search over 69,000 products and get info on ingredients, potential health hazards, animal testing practices, and more.
Which I'm going to start doing. I can't honestly say that I'm going to abandon all of my beloved beauty booty and go totally natural. Or that I'm going to start protesting products that might lie about their ingredients. But I do want to become more informed about the things that I slather all over my skin. Armed with the proper info, I can make the choices that I believe are best for me.
I think HollyBeth says it best: "The point is not to attack competitors or those in the beauty industry. Rather, my hope is that we will all become more alert to ingredients and potential hazards. Cancer is rampant in my family and I am sure that chemicals found in their cosmetics, deodorants and creams have contributed to it."
She has a point. It sure is nice to know that I'm not inhaling poisonous parabens while I obsessively sniff my Sugar Cookie Candle. Which lately, I've been doing a lot.
---

Susan is a freelance writer, born and raised in NYC and currently based in Brooklyn. She's the senior beauty editor for Meets Obsession, and also writes for online publications such as Mamasarollingstone.com, TueNight.com.
and The Huffington Post. Susan had a serious candle hoarding issue that she has no plans to address. She's currently obsessed with Marc Jacobs' new beauty line, her black Zara moto jacket, and Aaron Paul.
All author posts