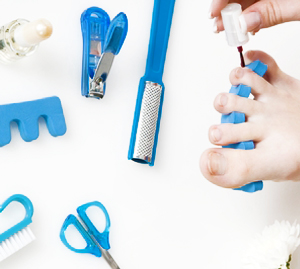 While hurricane Irene raced up the east coast, I made sure to be prepared: water, canned goods, a flashlight, and a colossally big bag of cosmetics.
Because what else is a beauty editor to do when her entire city is shut down?
Play with products! I enlisted my friend Emily, fresh from evacuation Zone A, to help me out.
We settled on DIY pedicures, and since we had the time, went all out.
Here's how:
Make sure your nails are clipped, your feet are clean, and you've sloughed off calluses with a foot scrub and/or pumice stone.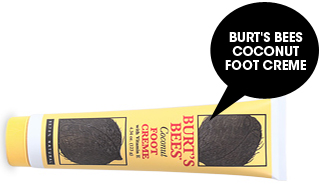 Smother your feet with moisturizer (I love Burt's Bees Coconut Foot Crème), wait a few minutes, then gently wipe off any excess with a towel.
Next, lightly soak a cotton swab with polish remover and swipe each nail (this removes excesses oil and moisture).
Before polishing, I suggest putting on a toe separator (or weave twisted toilet paper between your toes) so they won't touch and cause smears.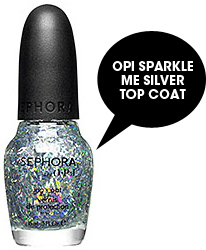 Apply a light coat of clear base polish, such as Essie's All-in-One Base Coat, and let dry. Then, use your color of choice to paint on two coats. I opted for Orly's Moonlit Madness, while Emily went glam with Sephora by OPI's Sparkle Me Silver to prepare for her upcoming cabaret show.
QUICK TIP: To avoid air bubbles in your polish, rub the bottle between your palms for a few seconds before applying (don't shake).
Also, make sure your lacquer has not been sitting in your bathroom cabinet getting stale for a year. The newer the polish, the smoother it will go on.
Once dry, apply a top coat, like this one from OPI. Make sure your nails are totally dry before removing your separator, and slide on some flip-flops. And you're done!
Hopefully, you'll be able to go right out and show off your sparkling toes. Unfortunately, Emily and I were stuck inside, watching NY1 and pigging out on peanut butter.  Still, it wasn't that bad. And thankfully, the city stayed (more or less) safe.