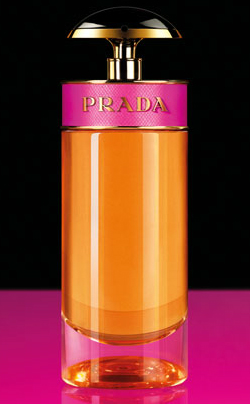 Prada is back on the scent scene with their newest release, Candy. The fragrance, which boasts notes of musk, vanilla, and caramel, is meant to be a throwback to the 1950s, and will be available at Neiman Marcus in August. Prada's Candy can also be pre-ordered online.
The playful box and retro looking bottle is what makes this scent different from Prada's other perfumes—youth is the selling point here, and it's less luxe than it is playful and light. Léa Seydoux, the French actress who appeared in Woody Allen's Midnight in Paris, is the face of the print campaign and raunchy online ad, which further illustrates the fragrance's offbeat attitude.
There's a definite Lolita vibe to Prada's new product; a girlish, carefree energy that's a departure from the brand's more formal, refined style. But it's a great scent and I'm anxious to buy a bottle for myself.
There's no doubt that Prada's Candy will look super pretty perched on my vanity.
Tags:
Léa Seydoux
,
Prada
,
Prada Candy