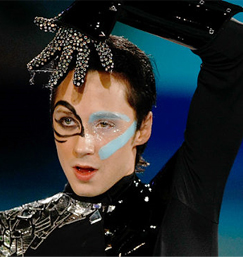 Johnny Weir, Olympic figure skater and flamboyant fashionista, has been named as the new face of the MAC Holiday Collection fittingly titled Glitter and Ice.
Although naming a man to the face of a makeup collection appears to be unconventional, others like Elton John and RuPaul have done so in the past.
Johnny has taken a break from the rink to work on the MAC campaign as well as his own line of dresses which could prove to be fierce.
Weir's skating costumes have caused quite a stir among the masses, filled with sequins galore, feathers, and fur. Despite death threats for his use of fur, he remained true to his glamorous self.
It is rare that a figure skater crosses over into the fashion world the way Weir did. He has appeared on various TV shows, most notably The Rachel Zoe project.
Thanks to appearances like this, he will soon be given his own TV show called "Be Good Johnny Weir".
While the ad campaign for MAC has yet to be released, one can imagine it will be filled with icy blues and sparkling grays.
Who else could be better to model this collection than the Ice Queen?