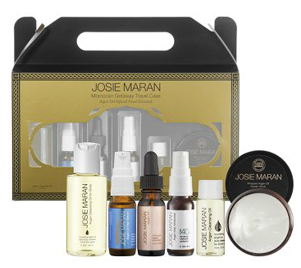 Last week, I went on vacation. And while I didn't make it to Morocco, Turks and Caicos was a pretty cool close second. (Though sadly, I didn't run into Ashton and Demi,  and given the result of their trip, perhaps this was for the best.)
ANYWAY, onto beauty. The day before my trip, I scored this incredible set of argan-oil-infused goodies from Josie Maran.
I couldn't resist, and thanks to La Bella Figura's amazing line of organic goods, I'm now obsessed with this free-radical-reducing, fine-line-smoothing and all-around beautifying wonder oil.
So my bag—a small carry-on—was filled to the brim with Ms. Maran's travel-sized treats. All of them came in handy after each of my five long days in the sun. Of course, I was always SPF-protected when exposed, however I have to admit that I was probably exposed too often.
The Argan Cleansing Oil for Face and Argan Cleansing Oil for Body were wonderful for washing away the layers upon layers of sunblock that I had so liberally slathered all over my skin. Both left me feeling squeaky clean and free of all broad-spectrum protection. And grateful that the sun goes down at night.

I used the 100% Pure Argan Oil for my under eye area (which can really benefit from this stuff). The Argan Daily Moisturizer and Whipped Argan Oil Body Butter not only hydrated my hide, but also left it dewy and glowing—which looked especially sexy under a cool, Caribbean moon.
But my favorite product by far was the Argan Oil Hair Serum. I protect my hair with product just as vigilantly as I do my skin because I'm blonde. This serum added just the right amount of shine after a drying day at the beach, and kept humidity induced frizz in check.
And finally, I added one other Josie Maran gem that's not included in this set, but so worth the extra splurge. This Argan Illuminizer was the perfect substitute for foundation, which just feels too heavy on warm, tropical nights. It gave my face a healthy looking, sun-kissed glow, brightened those dark spots around my eyes, and made me feel as though I wasn't wearing a lick of makeup.
Whether you have a beach vacation in your future or not, this set really is awesome for anyone. The products are small, but last for quite some time. And it's a great way for argan-oil skeptics (which I once was) to give this Moroccan miracle a try—in a wide array of ways.
Go on—I dare you. Then let me know what you think.
Tags:
Josie Maran