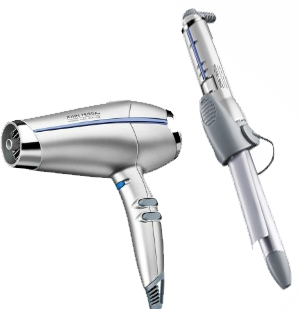 I owe so much to John Frieda. Without his tress-taming powerhouse of products, I'm not sure how I would have gotten by for the majority of my late adolescent/early adult life. I never would have dared to let my hair down, that's for sure.
Like most Frieda followers, it all started with the revolutionary Frizz-Ease Hair Serum. This stuff literally transformed my post-shower mangy-mess into a silky soft mane of cute, well-defined curls. Instantly.
Then came the Secret Weapon Flawless Finishing Crème, the Curl Defining Spray Gel, the Shine Glossing Mist …I could go on and on.
But I won't because the real point of this article is to share some amazing news:
John Frieda has teamed up with Conair to create a kick ass line of beauty tools.
And I tested them all, so trust.
There's a Full Volume Dryer, a Sleek Finish 1″ Straightener, a Volume Curl 1-1/2″ Curling Iron, a Tight Curls Curling Iron, and a Loose Curls 1 ¼  Curling Iron.
All four are fantastic, but I was most impressed by the Loose Curls Iron. I've tried a bazillion of these in an effort to achieve this look—all to lack luster results.
But this one works! My curls were loose and luscious and totally free of flyaways.
And it takes no time at all to use, so I know I'm not destroying my hair in the process.
So curly girls and Frieda fans, check these tools out, STAT. They're reasonably priced (not one of them tops $50) and they really work.
Which is what we've come to expect from the John Frieda factory.
---

Susan is a freelance writer, born and raised in NYC and currently based in Brooklyn. She's the senior beauty editor for Meets Obsession, and also writes for online publications such as Mamasarollingstone.com, TueNight.com.
and The Huffington Post. Susan had a serious candle hoarding issue that she has no plans to address. She's currently obsessed with Marc Jacobs' new beauty line, her black Zara moto jacket, and Aaron Paul.
All author posts