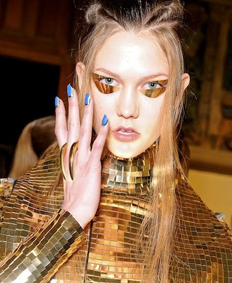 With their Barbie, Disney, and DC Comics inspired makeup collections, it's no secret that MAC cosmetics have been on a roll with their collaborations!
And recently, an announcement has been made that the glam cosmetics company is teaming up with British designer Gareth Pugh for a full collection of cosmetics to be released in November.
Pugh is known for both his outrageous, gothic inspired clothes and for his bold beauty looks on the runway, having recently had models strut the catwalk with futuristic gold plates surrounding their eyes.
The collection will be a collaborative effort between Pugh and renowned makeup artist Alex Box and will "include multiple colour products and accessories in special packaging".
The Gareth Pugh MAC collection will be unveiled at a cocktail party in New York City in celebration of the collaboration.
And soon following, the collection will make a backstage appearance at Pugh's show in Paris this October.
Tags:
Alex Box
,
Gareth Pugh
,
M-A-C
,
MAC Cosmetics