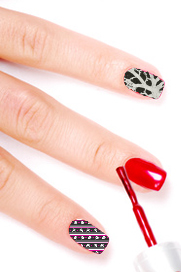 Thank god I broke myself of that horrible nail biting habit I had way back in college, because soon after I learned that I love getting them done.
And here in NYC there is no shortage of fantastic, no frills salons that offer manicures for about eleven bucks. Like the kick ass place around the corner from my apartment, where everyone knows my name, and can often anticipate what shade I'm going to select based solely on my mood.
So the other day I strolled in and had a quick consult with Lisa, my most trusted Montague Street manicurist. I asked her, what have customers been requesting so far this summer?
The following are four lovely looks, vetted and approved by Lisa, that are totally on-trend for the hot days ahead.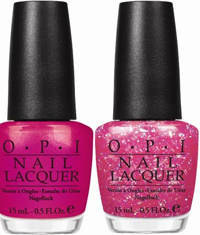 Summer Sparkles
This past spring I fell in love with Shatter Polish, so you can imagine my excitement when I recently received a brand new goody bag from O.P.I. Inside I found Nice Stems!, their latest limited edition collection, which features four colors in various shades of pink.
The coolest part of the package? "I Lily Love You," a glitter coat that can be layered over any of the other polishes to add a little extra oomph—and make nails especially shiny in the hot summer sun.
It can also be worn solo for a more subtle, yet still sparkly, pink tint.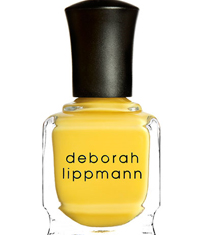 Mellow Yellow
You'll see a lot of celebrities with yellow manis this summer. The look caught on in late spring and is still going strong.
Katy Perry continues to sport this mellow hue on tour, and Gwen Stefani has been continuously spotted with sunshine speckled tips. Want to give your nails a solar power glow?
I recommend Chanel Nail Lacquer in Mimosa or Deborah Lippman's Yellow Brick Road.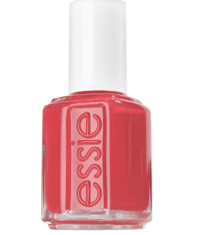 Cool Coral
Coral is a foolproof summer shade. It compliments a tan like no other color, and has such a breezy, beachy tone.
Essie's California Coral is my go-to hue—I always make sure to have a bottle in my bag when heading to the shore. Another good option? RGB's Coral, which is a perfect pick if you're into all things eco (their polish is free of harmful chemicals such as formaldehyde and toluene).
Killer Patterns
Patterned nails are nothing new, and this summer you'll continue to see tricked out motifs adorning many a fashionista's fingertips. If you have the money for Minx, use it.
It really is the best no-fuss, in-salon option for customized nail design.
But OTC beauty brands offer some good DIY options, such as Sally Hanson's Salon Effects Strips. Not only are these easy to apply, but they also come in a ton of different designs, last for nearly 10 days, and require zero drying time. I was never one for flashy fingers but when I tried Sally's Collide-o-Scope, I was instantly impressed. And I saw not one chip until day eight.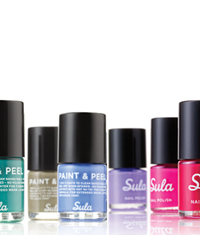 Post Script Nail Note: I would be remiss if I didn't mention my favorite, no fuss trend, peel-off polish. There is something so oddly satisfying about picking off a color in one sweet swoop, and not having to breathe in remover is a certainly a plus.
I'm currently obsessed with Sula's Paint & Peel Duos, which fit perfectly in my purse and are so easy to apply. Do your nails a favor this summer and give one a try.
---

Susan is a freelance writer, born and raised in NYC and currently based in Brooklyn. She's the senior beauty editor for Meets Obsession, and also writes for online publications such as Mamasarollingstone.com, TueNight.com.
and The Huffington Post. Susan had a serious candle hoarding issue that she has no plans to address. She's currently obsessed with Marc Jacobs' new beauty line, her black Zara moto jacket, and Aaron Paul.
All author posts